Falklands' begins to work in organization of next year's referendum
Monday, July 30th 2012 - 05:25 UTC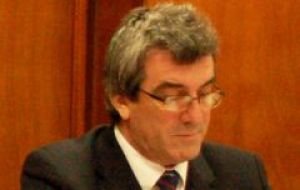 The Falkland Islands government has started to prepare the list of issues that will have to be addressed for the organization of next year's referendum on the political statute of the Islands, particularly the drafting of the question, inviting overseas observers and contracting a specialist to manage the whole operation.
The purpose of the referendum to be held in the first half of next year, as was announced last June 12, is to eliminate any possible doubt about the Falkland Islands' wishes, because Islanders "have no desire to be ruled by the government of Buenos Aires", which sustainedly delivers "misleading rhetoric about the Islands".
The matter was brought up in the last public assembly held in Stanley and the FIG Chief Executive Keith Padgett said that arranging a referendum and deciding upon the precise question "was not a simple matter when the aim was to send a message to the international community".
He said because of this the question on the political future of the Falklands must be "unbiased."
CEO Padgett said the referendum was an opportunity to show the world, "we are responsible and we know what form of governance we want". However, he warned if things were badly managed there was the potential for "disaster" and revealed that independent observers are being sought to oversee the referendum.
Mr Padgett said FIG had no intention of, "going overboard," but if the result was to be recognised internationally then a specialist was required to reassure the rest of the world.
He said the referendum would not be cheap as internal resources would be required as well as paying for the flights and potentially the wages of observers.
Campaigning would be needed on both sides and the question should be positive, that is voting for something rather than against. Eligibility to vote would also need to be examined, although most likely this would include all of those on the electoral roll.
The referendum announcement was done by MLA Gavin Short, chairman of the Legislative Assembly two days before the annual meeting of the UN Decolonization Committee or C24 meeting and on the 30th anniversary of the South Atlantic conflict, June 14th,, when the Argentine invader forces surrendered to a British Task Force sent to recover the Falklands.
"We are holding this referendum not because we have any doubts about who we are and what future we want, but to show the world just how very certain we are about that", said MLA Gavin Short.
The text also underlined that "I have no doubt that the people of the Falklands wish for the Islands to remain a self-governing Overseas Territory of the United Kingdom. We certainly have no desire to be ruled by the Government in Buenos Aires, a fact that is immediately obvious to anyone who has visited the Islands and heard our views. But we are aware that not everyone is able to come to these beautiful Islands and to see this reality for themselves. And the Argentine Government deploys misleading rhetoric that wrongly implies that we have no strong views or even that we are being held hostage by the UK military. This is simply absurd."
"We have thought carefully about how to convey a strong message to the outside world that expresses the views of the Falklands people in a clear, democratic and incontestable way. So we have decided, with the full support of the British Government, to hold a referendum on the Falkland Islands to eliminate any possible doubt about our wishes. This referendum will be organized by the Falkland Islands Government and will take place in the first half of 2013. We will invite independent, international observers to observe the process and verify its outcome. Exact timings, the specific wording of the question, and other details will be announced in the coming weeks". (PN/MP).-