B&S abandons south Falklands oil and gas exploration; FOGL takes over
Tuesday, July 31st 2012 - 22:13 UTC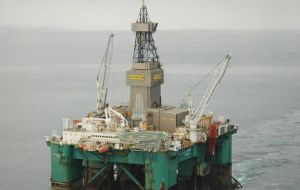 After two disappointing results, Borders & Southern has officially completed its deep water drilling program in the South Falkland Islands basin, the company announced on Tuesday. The company said well Stebbing has been "successfully plugged and abandoned," bringing to an end the Company's current two well drilling program.
According to the Borders & Southern, the Leiv Eiriksson drilling rig will now be assigned to Falkland Oil and Gas Company, FOGL, in the East Falkland basin to drill for its two-well program after which it will be demobilised.
In a brief communiqué FOGL confirmed that the Leiv Eiriksson rig is now under contract to FOGL and its joint venture partner from Italy, Edison International Spa. "The rig has commenced its move to the Loligo well location".
Meanwhile, Borders has yet to reveal the results of its analysis of the Darwin gas-condensate discovery, where it is currently assessing the relative liquid content.
The industry's specialized press also reported today Oriel Securities downgraded Borders to "reduce", saying that Darwin looks like a challenging development given the water depth and its distance from the islands. It added that further resources need to be discovered to advance the project and the company is not funded for further drilling.
In related news another Falklands' oil exploration company, Desire Petroleum plc, which is wholly focused on the North Falkland Basin announced the appointment of Peel Hunt LLP as nominated adviser and sole broker with immediate effect.