Brazil: Violent land disputes between tribes and ranchers on the rise
Tuesday, July 31st 2012 - 01:25 UTC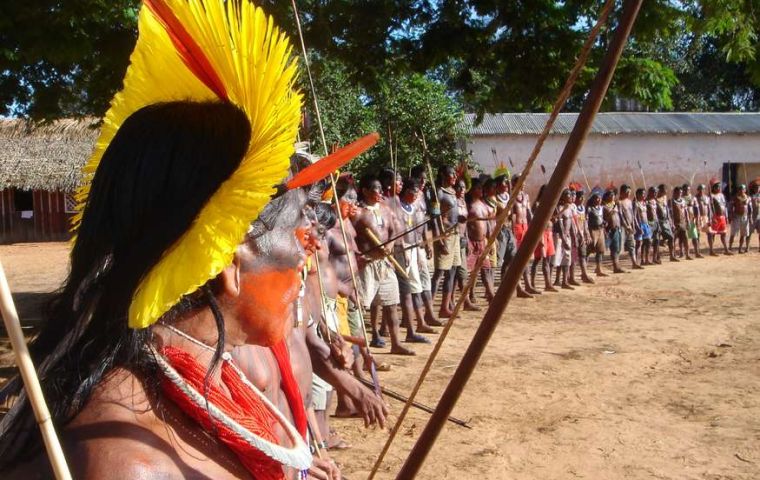 Violent disputes over indigenous land are on the rise in Brazil, sparking heightened militancy by natives angered by broken promises of compensation and slower government registrations.
A report by the Indigenous Missionary Council (CIMI), cited by the Folha de Sao Paulo newspaper on Sunday, said the number of territorial conflicts jumped from 82 in 2006 to 99 last year.
Indigenous peoples are fighting to protect their resource-rich lands from invasions or encroachment by huge cattle ranchers, industrial-scale farmers, illegal gold miners and loggers.
In Brazil, according to national census just one percent of the 191-million-strong population controls almost half the cultivated land.
Problems facing the indigenous population include murders, death threats, lack of health care and education, and delays in registering land ownership, according to the CIMI report.
CIMI, created in 1972 by Brazil's National Confederation of Roman Catholic Bishops, reported an average of 55 murders of native people per year across the country between 2003 and 2011.
Tension is particularly high in the country's northern Amazon region, where the federal government is building the huge Belo Monte hydro-electrical dam across the Xingu River.
Angry indigenous activists frequently occupy the construction sites and occasionally take employees hostage to protest what they view as broken promises of compensation.
CIMI also highlighted a drop in indigenous land registrations by the government, from 145 under President Fernando Henrique Cardoso (1995-2002), down to 79 under president Luiz Inacio Lula da Silva (2003-2010), and only three last year under President Dilma Rousseff.
In remarks to Folha de Sao Paulo, Rinaldo Arruda, an anthropology professor at the Pontifical Catholic University of Sao Paulo (PUC-SP), noted a "conservative shift" by the Rousseff government as it dealt with the powerful pro-agribusiness bloc in Congress.
Activists, including members of the Xicrin, Juruna, Arara, Aweti, Assurini and Parakanawa tribes, are threatening fresh occupations of sites of the public consortium Norte Energia, which is in charge of the Belo Monte project.
Norte Energia insists it will honor signed compensation accords but indigenous chief Giliard Juruna told Folha de Sao Paulo: "We don't believe what they are saying."
The third largest dam in the world, the 11,200-megawatt Belo Monte is one of several hydro projects meant to provide Brazil with clean energy for its fast-growing economy.
Indigenous groups fear the dam will harm their way of life, while environmentalists have warned of deforestation, greenhouse gas emissions and irreparable damage to the ecosystem.
The federal government plans to invest a total of 1.2 billion dollars to assist the displaced by the time the dam is completed in 2019.
In western Matto Grosso do Sul state, ethnic Kadiweus have been occupying 23 farms since May on land they claim. To the north, in Matto Grosso state, the Maraiwatsede are still waiting for ranchers to comply with a court ruling to evacuate their ancestral lands. In both cases, ranchers alleged errors in demarcation.
On July 19, the rights group Survival International pressed Brazilian authorities to end impunity for those behind the murders of indigenous people as it hailed the arrest of 18 suspects in the high-profile killing of a Guarani Indian chief in Mato Grosso do Sul last November.
According to CIMI, 51 indigenous people were killed across Brazil last year. Indigenous peoples represent less than one percent of the Brazilian population and occupy 12% of the national territory, mainly in the Amazon region.