Chavez after an energy alliance with Argentina and Brazil in the framework of Mercosur
Tuesday, July 31st 2012 - 01:19 UTC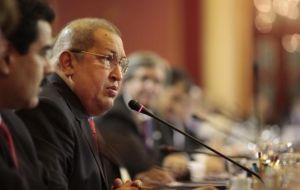 Venezuelan president Hugo Chavez announced he expected to sign an oil/gas alliance between Argentina's YPF and PDVSA (Venezuelan Petroleum) when he meets with his peer Cristina Fernandez in Brasilia in the framework of the Mercosur extraordinary summit to officially incorporate the country as full member of the trade group.
Chavez added he would be talking with Brazilian president Dilma Rousseff about a possible energy alliance between the two countries taking advantage of the summit scheduled for Tuesday.
The Venezuelan president recalled that last week Argentine Planning minister Julio de Vido and YPF CEO Miguel Galuccio visited Caracas and held talks with Venezuelan Energy and Mining minister Rafael Ramirez on the alliance.
"I spoke to Cristina so that the documents we worked with De Vido, if they can be ready for tomorrow, we could have a bilateral meeting to review them and hopefully seal the PDVSA/YPF alliance", said Chavez on Monday evening before leaving from Caracas for Brasilia.
Not many details of the talks or advances have filtered besides the fact that the possible participation of YPF in the development of Venezuela's huge Orinoco shale deposits was considered as well as an increase in fuel exports to Argentina.
Chavez who on Tuesday will see a dream that started in 2006 made effective with the full incorporation of Venezuela to Mercosur described the event as "historic" and underlined "sets Venezuela on the right geo-political and geo-economic path which is looking to the south".
"This really historic event will take place in the coming hours in the Brazilian capital", said Chavez pointing out it was "a major defeat for the US foreign policy in South America, because behind the repeated refusal from the Paraguayan congress to approve the inclusion of Venezuela in Mercosur was the hand of Washington's diplomacy that has always wanted to isolate Venezuela".
At the last Mercosur summit in Mendoza, Argentina, in June the three country members decided to suspend Paraguay of all formal events until next year's general election, April 2013, following the removal, through a political impeachment by the Senate of Fernando Lugo as president.
At the same act the three presidents from Argentina, Brazil and Uruguay decided the incorporation as full member of Venezuela which effectively had been pending because of the Paraguayan Senate position contrary to President Hugo Chavez.
The trip to Brasilia marks Chavez first overseas since he has been for months under radio and chemotherapy treatment for cancer.
Chavez is also on the presidential campaign trail for next October 7 election and has been showing he's energetic and recovered and far from the image of a weakened, suffering leader of recent months.
At the beginning of the month and at the launching of the presidential campaign, Chavez declared he was free of cancer after the long treatment he underwent in Cuba.
To a great extend he's back to his long broadcasts and television speeches as well as attending political rallies where he displays a good physical condition