Uruguay's citrus industry hit by frosts accumulates losses of 35m dollars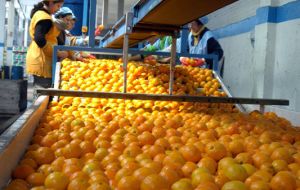 Uruguay estimates that the citrus industry will experience losses of 35 million dollars because of the intense frosts. The 35 million includes 12 million dollars in lost salaries and contributions to social security.
The estimate was addressed on Monday's ministerial cabinet meeting based on reports delivered by the Ministry of Agriculture which anticipated that of an expected total citrus crop of 318.000 tons, an estimated 115.000 tons were lost to the frost and adverse climate conditions which adds up to 36% of the total harvest.
Deputy Executive secretary Diego Canepa said the volume is equivalent to half of Uruguay's citrus exports and advanced that the ministries of Economy and Agriculture are working on a specific fund to help compensate in part farmers' losses and stabilize the sector.
"According to the Ministry of Agriculture two different kinds of frosts, a phenomenon not seen in the country since 1967, has severely punished the citrus groves", said Canepa, who also pledged some sort of aid for the lost working hours.