Argentina/Venezuela sign strategic cooperation agreement to boost energy
Wednesday, August 1st 2012 - 07:46 UTC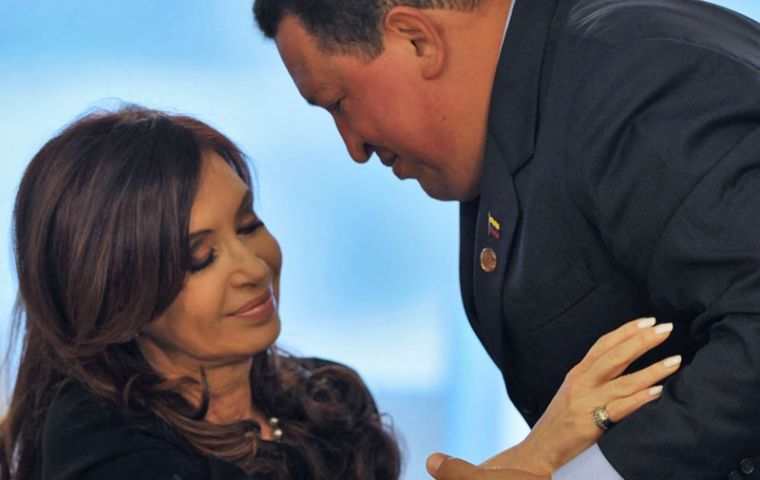 After attending the Mercosur extraordinary meeting in Brasilia, President Cristina Fernández and her Venezuelan counterpart, Hugo Chávez, signed a cooperation agreement to develop a strategic energy plan between state oil companies YPF and PDVSA.
The bilateral summit took place on Tuesday in the Argentine embassy in the Brazilian capital. After signing the accord, Cristina Fernández assured that Mercosur "should aspire to become the fifth global economy behind the US, China, Germany and Japan."
The document ratifies the decision to identify schemes of strategic participation for the joint planning in all the value chain of hydrocarbons, both in Venezuela and in Argentina, so that based in complementation and association between the two state companies projects already implemented can be optimized and new ones launched.
For this purpose and to launch new projects "an Energy Cooperation Strategic Plan will be nominated to that closer links can target the companies to increase crude production in both countries".
As part of this complementation YPF will be incorporated to the Ayacucho Areas 6 of the Orinocco shale deposits currently in production while PDVSA will join "oil and gas exploitation projects" in Argentina.
The two companies are expected to come up with a portfolio of projects in the form of a proposal with the objective of collecting funds for short, medium and long term execution of the different initiatives.
Likewise PDVSA will participate in petrochemical and technology transfer projects or in any other form of cooperation to which both sides agree. The follow up and execution of the different projects will be the responsibility of Venezuela's Oil and Mines ministry and the Argentine Federal Planning Ministry.
Finally the agreement underlines the close friendship and cooperation links between the two countries and praises Argentina's decision to take over 51% of YPF from Repsol. Likewise the incorporation of Venezuela to Mercosur opens the possibility of a wide range of strategic alliances in the energy sector.