Argentina will formally protest vandalism at the Darwin cemetery in Falklands
Wednesday, August 1st 2012 - 07:29 UTC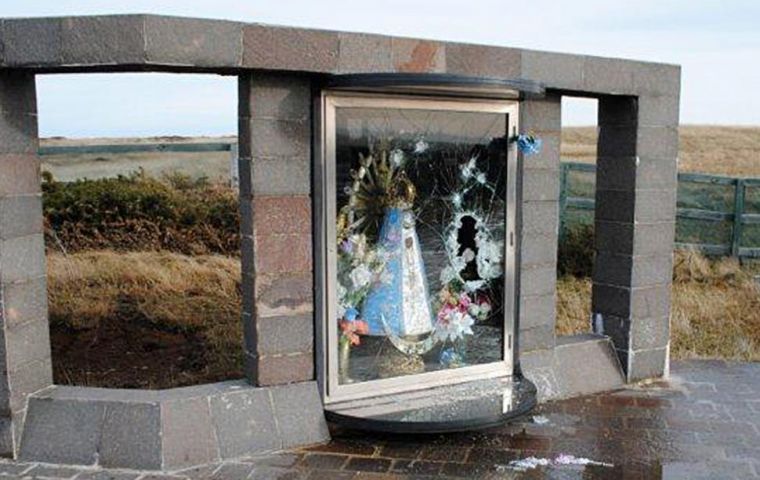 Argentina repudiated the 'profanation' of the hermitage at the Darwin cemetery in the Falklands/Malvinas Islands, which holds the graves of Argentine combatants who lost their lives during the 1982 conflict.
A release late Tuesday from the Foreign Affairs ministry also anticipated that Argentina would be presenting a formal protest to the British government and will also inform of the incident to the United Nations and the International Red Cross.
Argentina also demands that the UK immediately clears the incident through an impartial investigation that identifies and punishes those responsible of such a grave offence that attacks the sacredness of the cemetery.
Argentine media reported that the Families Commission of Malvinas claimed the hermitage with the Virgin of Lujan, patron saint of Argentina, at the Darwin cemetery had been attacked and vandalized by unidentified people.
Earlier in the week the Falkland Islands government in a short release was the first to make the announcement on the incident saying that the local police were investigating what appears to be an act of vandalism and had reported it to the Families Commission.
"Clearly we condemn any action of this sort and very much regret that this might have happened - anyone who knows anything about the cause of the damage should contact the police. The Families Commission has been informed and is working on the arrangements for repair", said MLA Dick Sawle.
Pictures published in the Argentine media show the glass screen of the hermitage, which is part of the Darwin cemetery where 238 Argentine soldiers are buried, cracked in what seems an attempt to break the thick pane.
The Argentine release says that it is not enough for the Islands' government to condemn the vandalism at the Darwin cemetery.
"It is also necessary that the British government ceases to ignore UN decisions and puts an end to the continuous display of armament and the presence of submarines with nuclear capacity in the South Atlantic in violation of international treaties".
Finally Argentina invites the UK to respond to barbarism with dialogue so that, faced with the irrationality of a few, "we lead the desire of the majorities to end the colonial conflict in Malvinas and in all those territories which are still victims of outdated ideologies".