The next December solstice celebration in Bolivia will have Coca Cola after all
Thursday, August 2nd 2012 - 06:46 UTC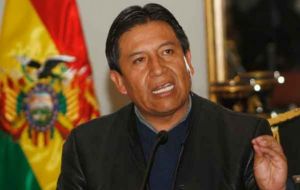 Bolivia said on Wednesday that statements from Foreign minister David Choquehuanca about "the end of Coca Cola" were taken out of context adding there are no plans to expulse the US Company from the country, as published in the local media.
"The statements from the Minister were taken out of context and there is nothing official" regarding the media publications said Consuelo Ponce, head of the PPRR department from the Foreign Affairs ministry.
Last July 13 Choquehuanca said that the Bolivian government would be inviting indigenous leaders and groups from all over the world to celebrate in Bolivia the summer solstice on 21 December, since on that day would come "the end of capitalism and the end of Coca Cola and the beginning of a time love and peace and of cultivation of life".
"Next December 21 will mark the end of selfishness, and of division. December 21 must be the end of Coca Cola and the beginning of the mocochinche (a soft drink made out of nectarines and peaches)" said at the time Minister Choquehuenca during a rally at the town of Copacabana next to the Titicaca Lake and close to the Peruvian border.
Since then the statement was interpreted, according to several La Paz media, as meaning that the company would be sent out from Bolivia and rumours went as far as saying that on that precise date, 21 December, President Evo Morales would be making the grand announcement.
As rumours extended the US fast food company McDonald's was added to the list, when the truth is that the burger company closed its outlets in Bolivia in 2002, after five years of operations and because of very low profits.
Embol a subsidiary from Chile's Embonor and the official bottler of Coca Cola in Bolivia said that it will make an official statement in reply to the current confusing information.
The president of Bolivia Chamber of Industries, Mario Yaffar interviewed by a radio in La Paz said that there was a "clear distortion" (intended or not) of the statements from Choquehuanca, which to his understanding spoke about "an alleged loss of global supremacy" in reference to Coca Cola and certainly not that the company would be sent out of Bolivia.