Peruvian police seize 2.3m counterfeit US dollar notes; so far this year 17m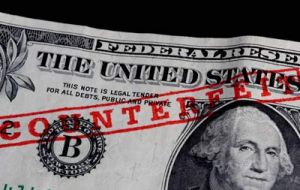 Police in Peru have seized 2.3m dollars in counterfeit notes. Prosecution said the notorious Quispe Rodriguez family clan is behind the production of fake currency. Peruvian police chief, Raul Salazar, said the gang was planning to smuggle the counterfeit 50 dollar bills into the United States, hidden inside Peruvian souvenirs.
United States says Peru has become the largest foreign producer of counterfeit dollars. This year alone, Peruvian police claim to have seized 17m in forged currency.
Mr Salazar said a man accused of belonging to the Quispe Rodriguez family clan, Luis Alfredo Obando Paredes, was also arrested. The money and material for the production of fake bills, such as special paint and paper, were seized at a house in the capital, Lima.
Other relatives were arrested two weeks ago with millions of fake dollars, Euros and a smaller amount of Soles, the Peruvian currency. The authorities say the family gang is led by Joel Rodriguez Quispe, known as Nique, who is in jail and is being prosecuted.
A Peruvian fraud officer told Time magazine: "Counterfeit operations have been multiplying for several years now. For every person we arrest, there are probably nine others printing bills".
Once printed, the notes are sold for roughly half their face value, before being distributed throughout North, Central and South America. In recent years packages containing fake US Dollars have been found by the police heading to Costa Rice, Ecuador, Mexico and Venezuela, as well as the US
Customs officers have found notes hidden in the clothing of passengers flying out of Peru, stitched into stuffed animals in cargo containers bound for Ecuador, and even stashed in the false bottoms of baby cribs.
The US secret service has a task force operating in Peru in a bid to stamp out the counterfeiters. But fraud officers admit they're fighting a losing battle with the forgers, who are finding new and innovative ways to move the fake money.
Lawmakers in Peru hope tougher sentences for counterfeiters will act as a greater deterrent. First time offenders often escape jail sentences and repeat offenders can expect to be free in just two years, thanks to a law that benefits nonviolent offenders.