Uruguay's July inflation record low on government successful electricity saving campaign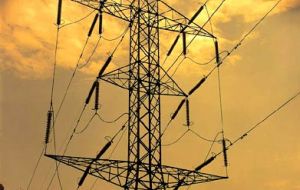 Uruguay's annual consumer-price inflation dropped in July to 0.27% the lowest in 58 years, accumulating 7.48% in the last twelve months (down from 8% in June), and 4.41% in the first seven months of 2012.
The figures were released on Friday by the National Statistics Institute and reflect a strong drop in the price of power (and thus housing) following on an aggressive campaign calling on consumers to cut on electricity.
"Your saving is worth double", said the government's electricity company UTE, which promised that for every KW saved in June-July, (compared to averages from the previous two years, 2010 and 2011) it would reimburse a second KW.
Uruguay's main power supply is hydro and scarce rains and drought were straining resources and thus the campaign launched by UTE, which had a good reply from consumers.
This helped bring down the July electricity bills by 8.91% with a 0.33% fall in the housing item which makes up the Consumer Prices Index, CPI.
Overall in July, month-on-month gains in the CPI were driven by a 1.31% increase in food and nonalcoholic-beverage prices; transportation prices rose 0.48%; and restaurant-and-hotel prices rose 0.72%. But housing prices fell 2.31% and clothing prices decreased 0.97%, INE said.
However inflation is far from tamed at 8% when the central bank target for the twelve months is 4% to 6% and in the first seven months it has reached 4.41%.
This in practical terms meant the power saving represented an additional 50 million dollars for electricity consumers' pockets, which "we can call it a reduction of the utility rate", said Gonzalo Casaravilla, president of UTE.
However in spite of the government's optimism private economists argue that it was an exceptional month since without the electricity bill compensation (minus 0.4%) July's inflation would have been 0.7%.
"It's an effect that will reverse entirely this month, since the subsidy will be over and annual inflation at 8%", said Aldo Lema from Vixion Consultants. "This is no genuine inflation moderation".
Economist Ramon Pampón from PWC argued similarly. "We ratify our vision about the CPI: sustained growth of non transable goods with a floor of 4% and then non transable goods, public utility rates and volatile prices such as fresh vegetables and fruit, which means we are back at the 8% range".
CINVE, a think tank close to the government also points out that the lower power bill will be over when the savings plan comes to an end and cautioned about the coming round of salary discussions, which will have an impact on many services such as non transable health and education.
However the Uruguayan central bank remains concerned about inflation and consumer credit and last week, effective August first, increased marginal reserve requirements: 20% for deposits in Uruguayan pesos, up form 15%, and for foreign currency to 40% from 27%. (US dollars)
Uruguay's marginal reserve requirements refer to the growth of deposits since April 2011, when the central bank introduced the new scheme to expand its monetary policy tools.
The move will help "moderate inflationary pressures and the eventual negative impact on competitiveness" the central bank said in an e-mailed statement. The central bank held its benchmark interest rate steady at 8.75% earlier in July, citing persistent concern about inflation even as growth slows.