Poor ranking for Uruguay's main university; Brazil and Chile top of Latam list
Monday, August 6th 2012 - 23:24 UTC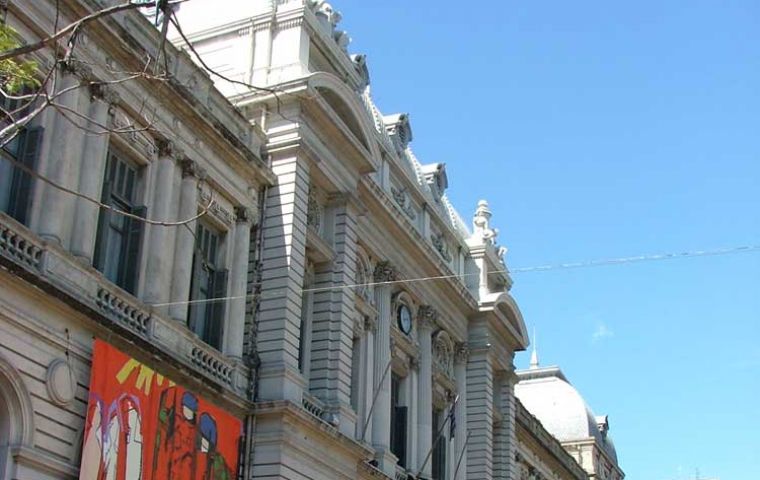 Uruguay's government-financed national university came up in position 79 in the QS academic quality international ranking of the top 100 Latinamerican universities. Brazil, Chile, Mexico, Argentina, Colombia were far better ranked than Uruguay's Universidad de la Republica, Udelar, which has caused deep concern among government officials.
The annual report from Quacquarelli Symonds, one of the most prestigious international companies in the assessment of universities academic level and achievements has been doing the ranking at global level since 2004, but on 2011 started a special branch dedicated to Latin America.

Brazilian and Chilean universities lead the pack followed by Mexico, Colombia and Argentina. Top of the list is the University of Sao Paulo; followed by the Catholic University of Chile; Campinas State university, Brazil; University of Chile; Mexico's National Autonomous university; University of the Andes, Colombia; Monterrey Technology Institute, Mexico; the Federal university of Rio do Janeiro; University of Concepción, Chile; University of Santiago de Chile and the University of Buenos Aires.
The QS ranking take into consideration six basic indicators, with different percentages, to elaborate the listing: academic reputation from Global survey which accounts 40%; employer reputation from Global survey, 10%; citations per faculty from Sciverse Scopus, 20%: faculty/student ratio, 20%; proportion of international students, 5% and proportion of international faculty, 5%.
While the Uruguayan university achieved 46.1 points, the University of Sao Paulo, the first ranked had 100 points, according to QS. However the performance of Udelar climbed 15 points from 2011, when it ranked in post 94.
Of the six indicators Udelar is best positioned in the citations per faculty with 96.7 points, equivalent to post 12. It ranks the lowest in the faculty/student ratio, with only 3.9 points and ranks 151.
Earlier this year Scimago Journal & Country Rank which includes the journals and country scientific indicators developed from the information contained in the Scopus database, assessed 1.401 universities in 43 different countries and Udelar figured in position 70, but 32 if ranked only among Latinamerican universities.
One of the indicators considered for this evaluation was the number of scientific papers published between 2006 and 2010. Udelar figures with 2.664 papers, however Sao Paulo University recorded 44.610 and the Buenos Aires University, 10.555.
None of Uruguay's private universities or tertiary centres figured in the QS ranking.