Argentine supermarkets must keep records of clients that spend plus 210 dollars
Tuesday, August 7th 2012 - 17:13 UTC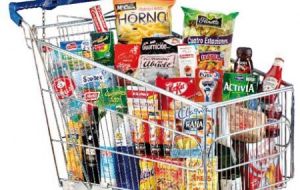 Argentine supermarkets must keep records of sales of plus 1.000 Pesos which must be available to tax inspectors, according to the latest decision from AFIP the tax revenue office. A thousand Pesos at the official rate is equivalent to 210 dollars and in the parallel 140 dollars.
To avoid the inconvenience many supermarkets are extending their clients two tickets splitting the final bill.
The AFIP original resolution was first implemented in 1998 but at the time the threshold was 250 dollars. AFIP established the new 1.000 Pesos plus purchase fill out form at the end of last year but started its implementation this month.
According to the Buenos Aires media the Chamber of Commerce and the Supermarkets association, on more than one occasion has requested AFIP to elevate the value of the final consumer bill.
"It is true the supermarket chains try to avoid conflicts with clients and have the cashiers close the bill when it reaches 950 Pesos", admitted one of the managers. He added "this has become routine practice since before a 1.000 pesos purchase was a rarity unless it was the purchase of a television or a fridge, but now a days with the current inflation in any hyper market filling a cart easily reaches that sum".