Norwegian organization to help with demining in the Chile-Peru border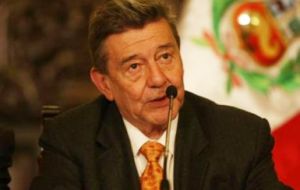 Chilean and Peruvian authorities meet Friday in Lima with the humanitarian organization Norwegian People's Aid which will be responsible for the demining of the two countries border area, announced Peruvian Foreign minister Rafael Roncaglio.
"It is a first exploratory mission to agree on a timetable for the demining and the cost of such a task", said Roncablio referring to the meeting with the three-member Norwegian group that on Monday arrived in Santiago.
"The mission will then visit the Chilean-Peruvian border area and should be arriving in Lima next Thursday" and on Friday there will be meeting of the Norwegian delegation with the two countries authorities "when they will make a proposal as to how long they estimate the work will take and how the job is to be addressed", said Roncaglio.

He added it should not take too long because it is a relatively small area for an organization accustomed to big demining tasks all over the world.
The Peruvian minister said that the demining of the border area is essentially a humanitarian problem and has no other significance, "it's an example of how countries in Latin America must work together. With Ecuador we are doing the same with the same purpose ensuring that the border becomes effectively an area free of mines and anti-personnel mines".
Norwegian People's Aid was commissioned by the neighbouring countries to sweep the mines planted in the border area going back to the seventies when Lima and Santiago under military rule were almost involved in an armed confrontation.
The Norwegian humanitarian organization currently is involved in demining in 18 countries of the world among which Iraq, Serbia, Vietnam and Congo
Last February heavy rains and mudslides swept some mines in Chilean territory to Peruvian soil next to an outpost which is has a heavy traffic between the two countries.