Continental animal virus reached UK and spreads throughout the country
Wednesday, August 8th 2012 - 18:28 UTC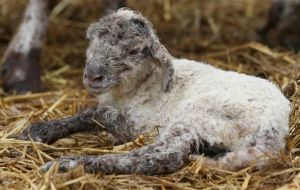 The Schmallenberg virus reached the UK this summer and could spread throughout the country, scientists say. Staff from the Royal Veterinary College (RVC) and Institute for Animal Health (IAH) found the virus in animals on the RVC farm in Hertfordshire in June.
The scientists say this proves the midge-borne virus survived the winter and will spread as midge numbers rise.
Schmallenberg causes severe deformities in lambs and calves born to infected mothers, but adults recover quickly. It poses no threat to human health.
Since its first detection in the UK in January, cases have been documented on 276 farms, mostly in the south and east of England, Chief Veterinary Officer Nigel Gibbens told reporters at a briefing in London.
However, many infections are missed because the symptoms in cows are mild, while infected sheep often show no signs at all. The first sign is usually when the animals begin giving birth to deformed or dead young - which can be months after the actual infection.
Animals on the RVC farm were initially tested in March for antibodies to the virus, which would show they had been infected at some point.
"We found low numbers of animals in March - 4% of cattle, none with clinical signs, and 1.5% of sheep," said John Fishwick, head of dairy herd medicine at the college.
"We also found two of our 10 alpacas had it as well, though none showed clinical signs - we believe this is the first time it's been found in alpacas.
"We tested everything in June again and found that one cow had shown signs of developing antibodies, and two sheep - these are very small numbers, but it is evidence that the virus is circulating."
It is believed that Schmallenberg initially arrived in the UK last year in midges blown from the continent. The new finding shows the virus has survived the winter, when midge numbers fall very low.
"On the basis that we have strong evidence of infected animals in the one place where we've looked, I would expect this year's outbreak to start really from now," said Prof Peter Mertens, who leads the IAH vector-borne disease program.
"The speed will depend on temperatures and winds, but I see no reason why it couldn't spread to cover most of the country this year."
The Culicoides midges believed to spread Schmallenberg are found all over the UK.
Compared against other emerging animal diseases such as bluetongue, vets believe that Schmallenberg is not a serious threat because it has no discernible impact on adult animals.
On some farms, about a third of calves and lambs have been born deformed. But across the piece, the numbers are probably much less, according to data that the government has collected and is now assessing.
"It feels like about 2-5% [of the young are born deformed] within affected herds, but we're doing the work to clarify that," said Dr Gibbens.
The government hopes the same data collection exercise will indicate the financial cost of the disease.
Scientists hope that ewes and cows that contract Schmallenberg will afterwards be immune to it, meaning that further exposure will have no impact on their calves and lambs.
But they emphasise that many things about the disease remain unclear, because it is so novel. It was identified only late last year, near the German town of Schmallenberg.
Climate change has almost certainly played a part in its emergence, scientists believe. The first diseases carried by Culicoides midges were detected in Europe in the 1920s, but only around the Mediterranean region.
In 1998, cases spread to Italy. Bluetongue emerged in northern Europe in 2006-2007 and Schmallenberg in 2011, in parallel with rising temperatures. (BBC).