Peru will host leaders' summit of Arab and South America countries in October
Saturday, August 11th 2012 - 11:38 UTC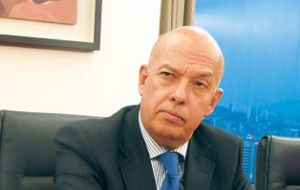 Peru will be hosting next October the III Summit of heads of state and government from South America and Arab nations which is expected to bring together 32 countries, according to Deputy Foreign Affairs minister Jose Beraún.
The third edition of the ASPA summit which last year was postponed because of the political protests in several Arab countries will have the attendance of 21 members from the Arab League and 11 from the Union of South American Nations, Unasur, since Syria and Paraguay are currently suspended from their organizations.
"We have the confirmation from the King of Morocco, the presidents of Lebanon, and Palestine, Prime Minister of Kuwait and the Emir from Qatar" said Beraún during a press conference, adding he was expecting all South American leaders to turn up in Lima.
The Deputy Minister said that despite the ongoing political processes in the Arab nations, he was optimistic about the outcome. He also revealed that the Syrian issue would be addressed. "It's a problem in process with no signs of a solution in the short term".
ASPA was created to promote the exchange among the two groups' members in areas of technical cooperation, trade and investment, and in sectors such as the management of water resources, agriculture and food, energy and infrastructure in transport, telecommunications and tourism.
"It's a great opportunity for both regions. Not only Peru but all the countries of our region are looking to increase trade, investment and tourism. The Arab countries are net importers of goods and services and therefore there is a natural complementation that we must take advantage off" indicated Beraún.
Parallel to the political meeting 400 business people from the Arab and South American countries will be holding talks on infrastructure, food security, the future of energy and natural resources.
The general manage from the Peruvian Foreign Trade Commission, Comex, Eduardo Ferreyros said that the 21 countries from the Arab League make up 320 million people and in 2011 exported 770 billion dollars and imported 550 billion dollars.
"It's an excellent opportunity to diversify international markets, given the financial problems faced by the European Union" added Ferreyros.
Baraún said that the Declaration of Lima closing the event will address such issues as human rights and gender.