Romney chooses Tea-Party as running mate; electoral debate expected to focus on government spending
Monday, August 13th 2012 - 05:30 UTC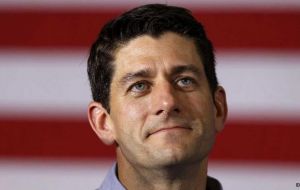 The US Republican presidential candidate Mitt Romney said he has chosen Congressman Paul Ryan as his vice presidential running mate, a move that will bring the debate over how to reduce government spending and debt to the forefront of the race for the White House.
Romney, the presumptive Republican nominee, announced that he has tapped the House of Representatives Budget Committee chairman at an event at the retired battleship USS Wisconsin - coincidentally named for Ryan's home state.
"His leadership begins with character and values. ... Paul Ryan works in Washington but his roots remain in Janesville, Wisconsin," Romney said before introducing Ryan.
Romney said Ryan, 42, "has become an intellectual leader of the Republican Party," and stressed that their campaign will focus on ways to create jobs, protect Medicare and Social Security, and repeal the health care law enacted under Democratic President Barack Obama.
The announcement marked the end a months-long search by Romney for a running mate to join him in facing Obama and Vice President Joe Biden in the Nov. 6 election.
His choice of running mate is a bold one and comes after polls this week showed him falling slightly behind Obama in what is still a close race, in a campaign that is focused largely on the weak US economy.
The selection of Ryan brings a measure of youthful exuberance and energy to the Republican ticket as party activists prepare to gather in Tampa, Florida, late this month for a convention to formally choose Romney as their presidential nominee.
Conservative leaders, increasingly anxious over the state of Romney's campaign, had urged him to pass over reliable - but not particularly inspiring - figures such as Ohio Senator Rob Portman and former Minnesota governor Tim Pawlenty, and instead go for Ryan.
The Wisconsin congressman is a favourite of the conservative Tea Party, an anti-tax, limited-government movement that helped Republicans take over the US House of Representatives in 2010.
But Ryan's selection immediately draws attention to a budget plan he proposed as House budget chairman that would include controversial cuts in government health programs for the elderly and poor.
Democrats are eager to pounce on that issue - particularly in Florida, where many seniors live and which could be a crucial state in the November election. Ryan's selection makes the Florida leg of Romney's bus tour an instant test for the new ticket.
Romney's decision to select Ryan suggests he is willing to have a debate over government spending and its role in the daily lives of Americans. He has endorsed parts of Ryan's budget.
"Conservatives are going to be much energized because this is a demonstration that Romney was willing to make a bold pick," said Republican strategist Matt Mankowski. "It may not be what he wanted to do three or six months ago, but I think this is as significant a choice as he could have made."