Brazil investing to be in the top ten medals table for the Rio Games of 2016
Tuesday, August 14th 2012 - 08:22 UTC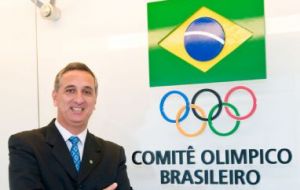 The host nation of the next Olympics had a mixed outing in London and is hoping that a surge in spending (700 million dollars) on athletes and facilities will ensure it makes the top 10 medals table in 2016 on home soil in Rio de Janeiro.
Brazil won 17 medals in London, two more than its previous best in Beijing, finishing 22nd in the overall count.
However, officials were frustrated after Brazil managed only three gold and at the general shortage of medals in the swimming pool and on the athletics track. The 2016 hosts have decided to focus more on individual events in a bid to win more medals in front of their own fans.
"Our goal is to get in the top 10 medals table and to do that we need to keep winning medals in the disciplines we've already won at and also win medals in new areas," said Marcus Vinicius Freire of the Brazilian Olympic Committee (COB).
"When you look at the top 10 countries, one of the things they all have in common is that they all win medals in at least 13 disciplines. We need to win medals in five, six or seven disciplines where we've never won medals in before."
Brazil has won medals in nine: volleyball, soccer, basketball, track and field, swimming, show jumping, sailing, judo and taekwondo. In London they won medals in most of those events, plus at a few new ones, such as gymnastics and boxing.
Freire said his team of 130 people, 22 of them former Olympic athletes and coaches has identified another 10 disciplines where Brazil could make an impact.
To achieve that goal, Brazil will spend 700 million dollars over the next four years on high performance athletes alone -- triple the amount in the run-up to the London games.
Much of the investment comes from lottery funding. Two percent of Brazil's federal lottery money -- 140 million Reais (70 million dollars) last year -- goes to the COB with the rest coming from sponsors, companies, and federal, state and municipal authorities.
One area of investment is a system that monitors Brazilian athletes' progress and compares it to former champions.
Freire's team has compiled dossiers on the careers of past Olympic medal winners, seeking to pinpoint what boosted their performance. They are using the results to tailor training and set targets for their own Olympic hopefuls ahead of the Rio games. Brazilian officials are also visiting sporting powers such as China, Germany, Australia and Britain to see how they do things.
They found that dominant sporting nations have five things in common, said Edgar Hubner, the COB's Director of Infrastructure.
They fast-track promising youngsters; they hire coaches, nutritionists, psychologists, administrators and physical trainers; they send athletes and coaches abroad and host foreign experts; they regularly hold international events and competitions; and they boast elite training centres.
Unlike rivals such as South Korea, which built its first elite training centre in 1966, Brazil did not have a centralized training facility until Rio hosted the 2007 Pan American Games.
The city vastly overspent on facilities and left them neglected when the games ended. The city government stepped in, took control of the aquatic park and velodrome and turned them over to the COB in 2008.
Today, the centre of the velodrome is a gymnastic arena and the dozens of cavernous rooms alongside the swimming and diving pools have been turned into weight rooms, gymnasiums and small dorms where athletes can nap.
The government also has plans to spend 60 million Reais (around 30 million dollars) this year on a monthly stipend for more than 4,000 athletes, including 111 of the 259 Brazilians who competed in London and it is also spending more than one billion Reais on building and covering almost 9,000 gyms, courts and pitches in schools.