Falklands included in Argentina's UN continental shelf committee presentation
Tuesday, August 14th 2012 - 07:54 UTC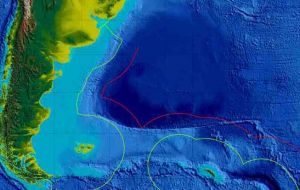 Argentina made a technical presentation last week before the UN Commission on the Limits of the Continental Shelf, CLCS, on the exterior limits of the Argentine shelf in which the claimed territories of the Malvinas, South Georgia, South Sandwich Islands and 'Argentine Antarctica' were included.
In a late Monday short communiqué the Foreign Ministry said that last Wednesday Argentina made the new presentation before the CLCS, which has already created a sub committee that will begin analysing the Argentine exterior limit, which it claims includes the Falkland Islands as part of the country's continental shelf.
Argentina had already made a first presentation before the CLCS on April 2009, according to timetable, followed by an oral support in August the same year.
This is the case when the exterior border line of the continental shelf of a country extends beyond the 200 miles and under provisions from the Law of the Sea those countries must present scientific data to a technical organism created by CLCS.
"In the continental shelf sovereignty rights from the coastal states include exploring and exploiting the sedentary living resources and non living located in that maritime space", according to the Argentine release.
In this new display last week Argentina made an audiovisual presentation with the relevant images and cartography of all the coastal extension of the "Argentine territory", appealing to the Geographic Information Systems, and thus "protecting its continental shelf resources and reaffirming sovereignty over the Malvinas, South Georgia, South Sandwich and Argentine Antarctica", added the ministry's release.
The Argentine presentation was based on four main issues: introduction to the Argentine presentation; the government organism responsible for the presentation; the work displayed by Argentina' commission on the exterior limits of the Argentine continental shelf, COPLA and the outline of the exterior limit of the Argentine continental shelf: foot and slope of the talus, formulas and restrictions established in article 76 of the Law of the Sea Convention.
As of 8 August the CLCS sub committee has started to analyze the Argentine presentation. The seven members subcommittee includes the following experts: Dr. Galo Carreras (México); Jair Alberto Ribas Marques (Brazil) and president of the subcommittee; Martin Vang Heinesen (Denmark); Isaac Owusu Oduro (Ghana), Mazlan Bin Madon (Malaysia); Lawrence Folajimi Awosika (Nigeria) and Yong Ahn Park (Korea).
Argentina argues that as a coastal state "it possesses and exercises sovereignty rights over its continental shelf, the maritime space which includes the sea bed and subsoil of the submarine areas extending beyond its territorial waters and along the natural prolongation of its territory up to the exterior limit of its continental margin".
When the exterior border of the continental margin is beyond the two hundred miles from the baseline, as is the case with Argentina, states acting on the UN Law of the Sea must present scientific reports to support the extent of their claims.
In the continental shelf sovereignty rights of coastal states include exploring and exploiting the natural resources in its maritime space.