Falklands' residents share HMS Dauntless 'secrets' during a reception on board
Friday, August 17th 2012 - 07:08 UTC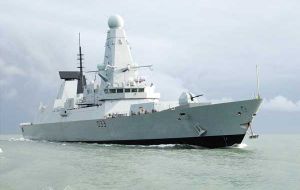 Falkland Islands residents and the local media discovered the 'secrets' of ultra modern Type 45 destroyer HMS Dauntless last weekend at Mare Harbour following her journey to the South Atlantic via Africa and a stop off at Tristan da Cunha.
The imposing figure of the Type 45 Destroyer HMS Dauntless could be viewed berthed at Mare Harbour on the weekend and up close by many Falklands residents who either attended a reception onboard on Saturday evening or a family/media day on Sunday.
The second of two T45 Destroyers, HMS Dauntless joined the fleet in November 2010, shortly after being the first of class to fire the new Sea Viper missile. Since then she has proved her capability helping to 'protect' the USS Carrier Battle Group in Exercise Saxon Warrior as the US units approached the UK in May.
After an annual exercise with France, Russia, UK and US and in the company of Russian Destroyer Admiral Chabanenko she moved to deployment near Africa.
There she called first to Sekondi, the port to Ghana's fourth largest city Takoradi, then 100 or so miles along the coast to the capital Accra, during an eight-day double visit to the country.
In Sekondi the ship embarked Royal Marines who provided training for Ghanaian Naval personnel focussing on the maritime security aspects of naval operations, a key part of HMS Dauntless' Auriga 12 deployment
The Portsmouth-based warship then spent three weeks at Cape Town, allowing the ship's company to let off steam with their first extended break since sailing back in April. It also gave the ship's 815 NAS Lynx Flight the opportunity to decamp to Ysterplaat airbase to work with the South Africans who also fly the agile helicopter.
Engineers spent their time overhauling the ship's machinery after the exertions of the 8,000- mile journey to the foot of Africa, and ready the Type 45 for the lively South Atlantic weather.
The vessel also made an unscheduled stop at Tristan da Cunha for a medical evacuation of a patient, as well as assisting in flying a radio re-broadcaster 200 ft up a mountain to improve radio coverage on the island.
HMS Dauntless is captained by keen sportsman Will Warrender. With a BA in Maritime Defence Studies, Management and Technology and a masters degree in defence studies he has served on HMS Cromer, Type 42 Destroyers Glasgow and Newcastle, Hunt Class Mine Countermeasures Vessel HMS Chiddingfold and her sister ship HMS Cattistock as well as most recently HMS Montrose.
He was promoted to Captain in April 2011 assuming Command of HMS Dauntless in July. (Penguin News).