Latam business climate index at 9 months low, approaching "risk of recession"
Friday, August 17th 2012 - 00:11 UTC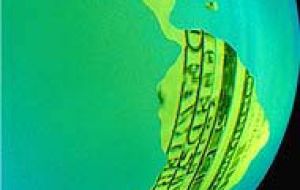 Latinamerica business climate dropped to its lowest level in nine months with "risk of recession" according to the index elaborated by the Economics Department from the prestigious Brazilian Getulio Vargas Foundation, FGV.
The Economic Climate Index, ICE, for Latam dropped from 5.2 in April to 4.8 points in July, and thus was below the average of the last ten years, 5.1, said FV in a Thursday release. This means that the July ICE now stands almost one whole point below the same month a year ago, 5.6 and is the lowest since October 2011 which was, 4.4.
However the list of Latinamerica has Uruguay ranked first with 6.2 points and Argentina at the other extreme with 2.6.
Climate business index worsened in July both because of a drop in the Current Situation Index, ISA, as the Expectations Index, IE, which assesses what can be expected six months ahead.
While the ISA plummeted from 5.6 points in April to 4.9 in July, the EI in the same period fell from 4.8 to 4.6.
"The two indexes have crossed to the unfavourable assessment zone, which means the region could be entering a recessive phase of the current economic cycle", adds the FGV release, which points out that Latam is reflecting the worsening global situation which after climbing two consecutive quarters has seen the World Economic Climate Index fall from 5.3 in April to 4.7 in July.
In the period under consideration the few countries where the ICE advanced was in Bolivia, from 5 to 5.4 points; Paraguay, from 3 to 5 points and Mexico a modest climb to 4.9 from 4.8.
Meantime the countries which have been more sensitive to the ICE are Colombia, from 6.7 in April to 3.8 in July; Peru, from 7.2 to 5.9; Ecuador, 6.7 to 5 and Brazil that lost a full point, 6.2 to 5.2.
Currently Uruguay figures top of the ICE index with 6.2 points followed by Peru, 5.9; Bolivia and Chile, 5.4; Brazil, 5.2; Ecuador and Paraguay, 5; Mexico 4.9; Colombia, 3.8; Venezuela, 3.4 and Argentina 2.6.
FGV said that the July index was elaborated following consultations with 147 experts in 18 countries.