Central bank announces first signs of Brazilian economy recovery
Saturday, August 18th 2012 - 05:57 UTC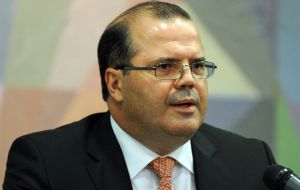 Brazil's economy enjoys sound fundamentals for sustainable growth, with an economic expansion likely to pick up speed in the next few quarters, Central Bank President Alexandre Tombini said at a business conference Friday.
"The economic growth of the country will accelerate in coming quarters, and our solid macroeconomic fundamentals confirm the outlook of sustained growth for the years ahead," he said.
Brazil's economy expanded 0.8% in the first quarter of 2012 against the same quarter of 2011. Although most economists are forecasting improved performance in the second half of the year, the consensus figure for 2012 is 1.8% but the 2013 forecast is more encouraging: 4%.
The release of Brazil's IBC economic activity index, a proxy for growth in the country's GDP for the month of June suggested the start of a recovery. The IBC index rose 0.75% in June from the previous month on a seasonally adjusted basis while expanding by 1.5% from the same month last year, according to data released Friday by the central bank.
Tombini said continued expansion of consumer and business lending will help to fuel the expected growth. Increased credit, he said, has been made possible by lower interest rates, as well as the continued creation of jobs that has lifted household income.
The central bank "adopted timely measures" to help counter effects of a global crisis on the Brazilian economy, but the full effect of those measures hasn't been fully felt in the economy, he said.
The Brazilian Central Bank began a cycle of interest rate cuts a year ago. The bank's Selic base interest rate now stands at 8%, down from its 2011 peak of 12.5%. Most economists are expecting more interest rate cuts before the end of this year.
Tombini also mentioned other forms of government stimulus, including tax cuts. He said Brazil's government is giving consideration to measures that would reduce tax charges for electric power. Lower electric power costs would help to fuel an industrial expansion, he said.
Inflation, likewise, isn't a threat to sustained growth. A weekly central-bank survey published Monday showed that economists are expecting inflation to end this year at 5.11%, up from the previous week's estimate of 5%.
But Mr. Tombini said inflation will continue to converge toward the central bank's 4.5% target, "although it won't be a linear process."