Double standards in Ecuador: Correa ready to extradite Belarus who faces death threat
Wednesday, August 22nd 2012 - 05:44 UTC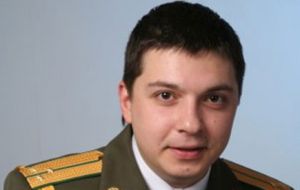 Less than a year ago an Ecuadorean judge denied a request to extradite Aliaksandr Barankov to Belarus, the former Soviet bloc nation whose president has been nicknamed "Europe's last dictator", reports the US and European media.
But now, the former financial crimes investigator is in imminent danger of losing his political refugee status and being sent home, where he says he could be killed because he unearthed corruption at the highest levels of government.
Barankov's fate could be decided any moment, less than a week after Ecuador granted political asylum to WikiLeaks founder Julian Assange, painting itself a proud haven for the politically persecuted.
Prosecutors in Belarus accuse the 30-year-old Barankov of fraud and extortion. He calls the charges bogus, retribution for his having exposed a petroleum-smuggling ring involving senior officials of President Alexander Lukashenko's government, including relatives of the leader.
Barankov is backed by rights activists at home, where Lukashenko has ruled for 18 years by fixing elections, quashing free speech, jailing dissidents and keeping 80% of industry in state hands.
"They accuse me of fraud and corruption," Barankov said by phone from prison Friday. "It's easy to accuse (someone) of this because the police, courts and prosecutor's office are employees of the president and his family."
Barankov arrived in Ecuador in August 2009 after fleeing the charges, which he said were filed after he uncovered the smuggling ring. Belarus has been trying to extradite him ever since.
In 2010, when he overstayed his visa, he was imprisoned for 55 days but was freed after authorities granted him refugee status, finding merit in his claim of political persecution.
Belarus continued to press for his extradition, but Judge Carlos Ramirez of Ecuador's highest court, denied it in October 2011, finding the evidence of Barankov's alleged crimes inadequate.
Then, on June 7, after a revised extradition request from Belarus, Barankov was arrested by 15 police officers who hauled him from his home in a middle-class neighbourhood of northern Quito.
Later that month, Lukashenko visited Ecuador for two days, signing agreements on trade, education, agriculture and the eventual exchange of diplomats with President Rafael Correa. A preliminary defence cooperation agreement was also signed.
Under Correa, Ecuador has been deepening commercial and political ties with US rivals including Iran, Russia, China and Venezuela.
"Everything changed after Lukashenko came," Barankov said by phone from Quito's cold, overcrowded century-old Prison No. 1. "I want Ecuadoreans to open their eyes and see what's happening to me."
An official at the National Court of Justice said that Ramirez could rule as early as this week on the new extradition request and that Barankov could lose despite his refugee status.
It would then be up to Correa to decide whether he is extradited.
"He cannot be condemned to death or to life in prison because there is a signed guarantee from the Belarusian government that assures us of this. The guarantee was delivered during Lukashenko's visit" said a court official who spoke on condition of anonymity. The official was not authorized to make statements to the press.