Chile's 2013 budget based on 5% growth and copper at 3.06 dollars the pound
Thursday, August 23rd 2012 - 06:14 UTC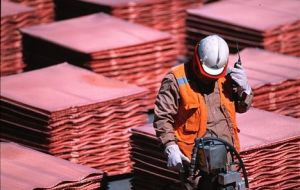 Chile is planning a 2013 budget with a tendency growth of 5% and an average long term basic copper price of 3.06 dollars the pound revealed finance minister Felipe Larraín together with Rosanna Costa, head of the Budget Office during a presentation before Congress.
Addressing the finance and budget committees ahead of the formal presentation of the budget bill that is to be discusses next month the two ministers said the hypothesis are based on the estimates from the GDP Tendency Consulting group and the long term price of copper, the country's main export.
"Currently the GDP tendency stands in the range of 5%, according to the experts' estimate and our challenge will be to attract more investment and improve productivity so we can speed growth and the GDP", said Larrain who added that the 3.06 dollars the pound for copper is a few cents higher than last year, 3.02 US dollars.
On Monday the Central bank announced that Chile's seasonally adjusted economic growth picked up in the second quarter from the first quarter to 1.7% buoyed by domestic demand.
The economy of the world No.1 copper producer expanded 5.5% in the second quarter, as expected, from a year earlier propelled by domestic demand, which rose 7.1%, the bank added.
Chile's export-dependent economy is bracing for fallout from the Euro zone's sluggish economic growth and a cooling in top trade partner China, but many in the financial markets have don't see the central bank cutting interest rates soon due to solid local growth and easing inflation.
Chile's central bank held its key interest rate steady at 5% for a seventh straight month last week.
"All the economic sectors grew, though services, retail and construction can be highlighted," the bank said in its report. "In terms of trade, exports showed a small increase, in contrast with dynamic imports."
In addition to producing around a third of the world's copper, Chile exports wine, wood, fruits and salmon, which makes it particularly at risk from softening global demand.
The economy in the first half of the year expanded 5.4% cored with the first half of 2011, the bank added.
The bank revised first quarter seasonally adjusted economic growth to 1.3% from a previous estimate of 1.4% compared with the last quarter of 2011. It also downwardly revised first quarter year-on-year GDP growth to 5.3% from a previous estimate of 5.6%.