Cristina Fernandez in "good health condition" but still in rest and recovery
Friday, August 24th 2012 - 01:04 UTC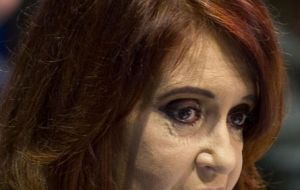 Argentine President Cristina Fernández is in "in a good health condition" after she cancelled all her official activities on Wednesday due to a low blood pressure bout, doctors informed on Thursday.
In a communiqué released by the Presidential Doctors' Unit, doctors said the chief of state is "in good health condition" but is to remain in Olivos carrying out her agenda from the official residence.
According to the statement, signed by doctors Luis Buonomo and Marcelo Ballesteros, the president's medical profile has improved since yesterday after "the diagnosis of a hypotension bout."
On Wednesday, a press release released by the presidential unit doctors said that the head of state "fainted" and that it had been "suggested" that she "suspend work activities and rest all day."
Today's communiqué puts an end to the speculation over Cristina Fernández' participation at an event sponsored by nationalized energy company YPF to unveil an "Argentine Exploration Plan" scheduled for Thursday evening in Buenos Aires.
This is not the first time that the Argentine president, 59, has suffered a blackout due to low blood pressure (hypotension). The President has suffered similar ailments in January, April and October 2011, forcing her to postpone activities including a trip to Mexico.
In 2009, Cristina Fernández cancelled two official visits: to Cuba in January, and to South Korea in February. In her public return after the first clinical episode during her first term in office, Fernández de Kirchner explained that she is a "chronic hypotonic."
On January 4, the President underwent a surgery for a suspected thyroid gland carcinoma, which was diagnosed as benign after the operation.