Cristina Fernandez calls of AFA teams to turn in lists with hooligans names
Tuesday, August 28th 2012 - 05:24 UTC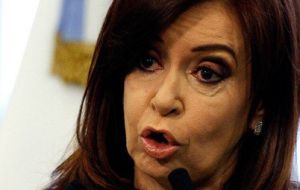 Argentine President Cristina Fernández urged football clubs affiliated to the AFA to "turn in to the authorities" their lists detailing the names of the hooligans attending matches on a regular basis in order to increase security outside the stadiums.
"Clubs must turn in the lists," she said while being asked for the recent episodes involving hooligan violence this weekend.
"There are mafias everywhere and we need to fight them all," she said, adding she was sent "a New York Time article detailing that mobsters are engaged in money laundering activities in the world's largest banks".
The Head of State made these statements while leaving a ceremony she attended in the Tecnópolis science and technology theme park.
The President, however, asked not to brand all football fans as violent, after indicating that "whenever something happens in the football world we go crazy".
Earlier in the day former cabinet chief and now Senator Aníbal Fernández stated that "we must put all efforts together in order to eradicate those responsible for violent and criminal acts in football", during a TV interview.
Likewise, Fernández who's also president of first division team Quilmes Athletic Club, remarked "We've conducted an efficient clean-up in Quilmes, but I do understand that it might not be that easy in some other clubs."
To end, the former Cabinet Chief said "They [hooligans] are not thousands; they are just ten of fifteen people. So, we must get together to ban them from every single football stadium".
Last week Argentina's most popular team Boca Juniors was handed a one-match stadium ban following an incident involving supporters during a Copa Sudamericana clash with the "red devils" from Independiente
During the second half, four fans situated directly above the 'red devils' dugout were seen to lean over and shake an advertising board loose before dropping it onto the opposition substitutes and staff below.
Despite the club acting swiftly to identify the culprits, the Argentine Sports Committee decided to close La Bombonera's doors for one fixture, meaning Boca will have to find an alternative venue for their clash with Atletico Rafaela in two weeks' time.
"La Bombonera [has been] suspended for one fixture," confirmed Boca Juniors on the club's official website. "This was decided by the Sports Committee following incidents"
Argentina's Security Secretary, Sergio Berni, has denied any suggestion that members of the Independiente team goaded fans into a reaction after the visitors were awarded a late penalty, however.
"I did not observe any illicit conduct from the Independiente team," he commented.
The nerve racking match but excellent match ended in a 3-3 draw with the second leg scheduled to take place on August 29.