Despite Fukushima accident, 30 countries considering nuclear energy says IAEA
Tuesday, August 28th 2012 - 04:13 UTC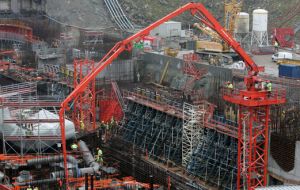 Almost 30 countries are considering or planning to introduce nuclear energy as interest remains strong despite last year's Fukushima accident, the United Nations' atomic agency said.
The International Atomic Energy Agency (IAEA), in a report posted on its website said the reactor meltdowns in Japan were expected to slow the growth of nuclear power in the world, but not reverse it.
"Among countries introducing nuclear power, interest remains high," the report said.
"While the Fukushima Daiichi accident caused some countries to change their positions and some to take a 'wait and see' approach, interest continued among countries considering or planning for nuclear power introduction," it said.
The Vienna-based U.N. agency forecast that global nuclear power capacity would grow by 35% by 2030, with the biggest increase in the Far East, a prediction in line with figures it published previously.
Sixty-two reactors are under construction, in addition to the 435 units now in operation. While this is down from a peak of 233 units that were being built in 1979, it is still a rise from figures of 30 to 40 from 1995 to 2005.
The Fukushima nuclear crisis, triggered by a deadly earthquake and tsunami on March 11 last year, raised a question mark over whether atomic energy is safe.
Germany and some European countries decided to move away from nuclear power and increase renewable energy generation instead. But countries such as China and India are expected to press ahead with nuclear plans to help meet their fast-growing demand for power.
The IAEA said factors such as volatile fossil fuel prices and environmental issues, which have driven the increased interest in nuclear power since 2005, have not changed.
Countries such as the United Arab Emirates, Turkey, Belarus, Bangladesh and Vietnam have taken concrete steps toward introducing nuclear power, including after Fukushima, it added.
Of the 29 countries now considering or planning for nuclear power most are from Asia and Africa. In 2010, the group of potential nuclear newcomers numbered 34, which was seven more than in 2008, the IAEA report showed.