Ecuador, boosted by Latam support ready to resume talks with UK on the Assange case
Tuesday, August 28th 2012 - 06:36 UTC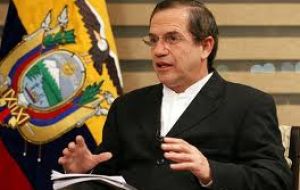 Following the strong unanimous support from Latin America approved by OAS, Ecuador will resume talks with the UK over the future of Wikileaks founder Julian Assange currently holed in at the Ecuadorean embassy in London, announced on Monday the country's Foreign minister, Ricardo Patiño.
Likewise on Saturday a spokesperson from the Foreign Office said that the UK retains its position "in favour of dialogue" relative to the Assange case who is accused of sex crimes in Sweden and has a pending extradition order.
Patiño's statement comes after the OAS voted a resolution expressing "full solidarity and support" for Ecuador on the case which was centred on the inviolability of embassy and consular premises, following a veiled challenge from the UK at the beginning of the conflict. Ecuador previously had received the support from Unasur and Alba, the group of nations headed by Venezuela's president Hugo Chavez.
The latest to join in support was the Andean Parliament, a consulting body which has representatives from Colombia, Bolivia, Peru and Ecuador, which was holding a special session in Quito.
"The Andean Parliament only pretends to join the solid continental solidarity which has emerged in an issue which is of interest to one of the members of the Andean Community of Nations", said Hector Rojas, Colombian lawmaker and currently president of the Parliament.
Patiño said that contacts with the UK will begin on instructions from his government and as a result of support resolutions from Alba, OAS and Unasur. The purpose of the contacts is to ensure Assange, to whom Ecuador has granted political asylum "can be liberated from an extradition to the US".
Over the weekend Ecuadorean President Rafael Correa proposed London extends a free passage to the Wikileaks founder so he can abandon the embassy in London with no danger of arrest or that Sweden extends guarantees that it will not extradite him to a third country.
Assange who is protected in the Ecuadorean embassy in London since June argues he is the target of a political persecution because of the release of thousands of diplomatic messages through Wikileaks which have ashamed several countries, particularly the US. He also fears that if finally sent to the US he could face life imprisonment or the death sentence.
Ecuador insists that at the beginning of the dispute it received a letter from the Foreign Office in which it warned of the enforcement of a law from 1987 which allowed the revocation of diplomatic immunity of the Ecuadorean embassy in London so the police could break in and arrest Assange.
Last week the UK observer at OAS Philip Barton denied that the British government was intent or threatening to raid the Ecuadorean embassy.
Ecuador accepted the UK delegate words as a 'retraction' of such a threat, said Patiño.