Falklands' Shallow Marine Survey Group shares beauty of South Georgia waters
Wednesday, August 29th 2012 - 02:56 UTC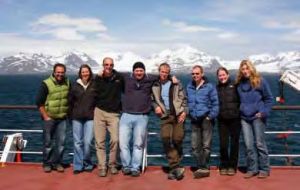 The Shallow Marine surveys Group, which normally operates around the Falkland Islands, completed what they described as a, "highly productive expedition," to South Georgia earlier this year, exploring the sub-tidal and inter-tidal habitats along the island's north coast.
Great weather, fantastic support aboard the MV Pharos and at King Edward Point research station, and an enthusiastic team of divers resulted in many exiting findings and valuable baseline biodiversity data collected.
Although there have been various localised studies in the past not since the Discovery Expeditions of 1925 has the South Georgia's marine habitats been explored in such detail and over such a wide geographic extent.
The team surveyed 25 sites between Bird Island in the northwest and Cooper Bay in the southeast, and three depth zones at each site, totalling over 64 hours spent in the zero degree Celsius waters.
4,347 specimens of marine invertebrates were collected including 120 sponge samples and 160 seaweed samples.
They gathered quantitative photos for species and habitat diversity analyses, macro-photographs for future guidebooks, and could not resist taking some amazing photos of the playful and inquisitive fur seals that accompanied he team on every dive.
At most sites, forests of bladder kelp (Macrocystis pyrifera) and the large, trailing Himantothallus grandifolius algae dominated the seabed, providing multi-storied habitats for a huge array of striped topshells, giant red sea spiders, giant isopods, limpets, sea cucumbers, colourful sea slugs, and a variety of starfish.
Beautiful overhangs and rock walls were also encountered, covered in a vibrant array of sea squirts, anemones and sponges. Inter-tidal surveys of seaweeds and animals also proved interesting, recording many previously unreported species.
A spokesperson for the groups said: "These data will greatly improve our understanding of the South Georgia marine habitats; they will aid in future planning, managing, and monitoring of South Georgia's natural resources, and have already generated interesting questions for future research in the region."
Visiting scientist Dr Emma Wells (algae, Wells Marine) and Dr Claire Goodwin (sponges, National Museums Northern Ireland) joined the group for the expedition, and noted many interesting new and potentially endemic species of seaweeds and sponges.
Claire was particularly excited to encounter the 'volcano sponge' Rosella sp. in shallow waters, belonging to a group of sponges called glass sponges that are normally encountered only in depths over 200m, but due to the fjord nature of the South Georgia environments were found in only eight metres of water.
The Shallow Marine Surveys Group exists to coordinate and conduct assessments of the status of inshore resources around the Falkland Islands.
Headed by a core group of experienced biologists and divers and assisted by volunteers from the local community they have been collecting, identifying and photographing marine animals since June 2006.
The scope of the work includes the splash zone, inter-tidal and sub-tidal environments on sandy, pebble and rock beaches of Falkland Islands' shores. (Penguin News).
The group's activities can be followed at http://smsg-falklands.org/