Majority of Uruguayans mistrust President Mujica; support stands at 39%
Wednesday, August 29th 2012 - 21:22 UTC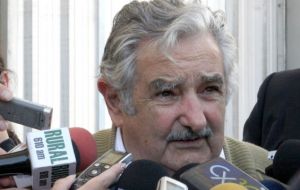 Mistrust towards Uruguayan president Jose Mujica has again peaked in August and now stands at 52% while those trusting him are 39% with the remaining 8% saying they don't know or prefer to remain quiet, according to the latest public opinion poll released this week in Montevideo.
Oscar Bottinelli, head of pollster Factum said "that there has been a strong sustained fall in trust of Mujica since he took office (March 2010) until the end of 2011" since trust plummeted from 81% to 41% in that period.
However this year "a slow recovery was recorded that lasted during the first semester until it reached almost 49%", but so far this quarter, in July and August "there was a kind of strong collapse which took the level to its lowest ever, since president Mujica took office", said Bottinelli.
According to the pollster this can be attributed to "on the one side the persistent clashes inside the ruling coalition and the closure of Pluna (Uruguay's flag air carrier)".
Two out of three Uruguayans are in disagreement with putting an end to the old (1936) and main Uruguayan airline, which collapsed with debts of over 400 million dollars in the middle of major scandal involving Argentine private investors that had associated with the Uruguayan government allegedly in the re-launching of the flag carrier.
"The closure of Pluna, the way the airline was again partly privatized during the previous government of President Tabare Vazquez, and letting the company collapse last July, when the beginning of winter holidays, leaving thousands of travellers stranded, certainly bashed the government and with particular intensity the economic team that was behind the whole operation". The Argentine investors are regarded as a "con group" which outwitted the Uruguayan officials from the Economy ministry.
"Everything that hits the government, hits the president and the strong discrepancies inside the ruling coalition are having their impact on Mujica", explained Bottinelli.
Looking into the political opinion spectrum, mistrust among members identified with the opposition stands at 81%, however among the ruling coalition voters, it is 69%. But Bottinelli points out to a worrisome fact: "there is a solid 23% of ruling coalition voters that mistrust President Mujica, or one out of four do not trust the president and this percentage have never ceased to increase".