Brazilian federal workers accept proposal and return to work next Monday
Friday, August 31st 2012 - 00:49 UTC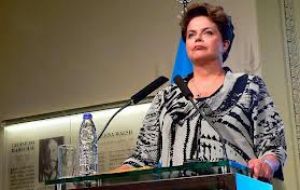 Unions representing 90% of Brazil's striking federal public workers have agreed to return to work on Monday, accepting tough terms set by President Dilma Rousseff, who insisted on putting fiscal discipline over the demands of her own political base.
While most of the public sector has been functioning normally, strikes by federal police, customs, tax collectors and other workers demanding better working conditions and raises ranging from 25% to 50% have for periods crippled operations at airports and some key ministries since May.
Rousseff whose Workers' Party began as a union movement, offered a 15.8% wage increase over three years, barely covering inflation expected for the period. Unions for 18 categories of public employee accepted the terms on Wednesday.
Rousseff's administration feared any raise beyond that could imperil several policy goals, including her quest to drive down interest rates. The central bank's most recent inflation report, published in June, identified wage negotiations as "an important risk" to future price movements.
Pay raises in Brazil's public sector often set a baseline for the private sector, where unions in the oil, automobile and other sectors are also engaged in contentious wage talks.
Not all striking federal workers have agreed to the terms. Brazil's Planning Ministry said it had received signals the federal police would not accept the proposal, while central bank and tax authority workers have rejected the deal.
"We have accepted with some restrictions. We want government to continue negotiating the scale of salaries" said Josemilton Costa, chairman of the Condsef which represents over thirty different unions and 510.000 members.
The Federal Police administrative staff that checks passports and migration returned to work on Thursday as well as the highways patrols. But staff and professors from the universities of Rio do Janeiro, Bahia, Sao Paulo, Rio Grande do Sul and Santa Catarina are holding out.
Wednesday was the deadline given by the government to accept the proposal since on Thursday the 2013 budget was to be sent for discussion at Congress.
According to Brazilian media quoting congressional sources the government is planning to send a bill to regulate federal personnel strikes after the coming October municipal elections.