Piñera promised an end to police brutality during student protest marches
Friday, August 31st 2012 - 00:56 UTC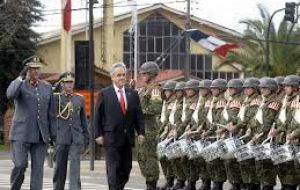 Chilean President Sebastian Piñera said that his government would not tolerate police brutality. The remarks came after the police was accused of mistreating student protesters who were demanding educational reforms.
Tens of thousands of students in Chile have been protesting since 2011 to demand free and quality public education and an end to the most priciest and unfair system.
The students and their parents have claimed that Carabineros sexually molested students or used excessive force when breaking up the demonstrations or evicting students from school buildings they had occupied.
The police was also accused of making arbitrary arrests, beating students, and even forcing student protesters to strip naked.
"Of course I am concerned with this matter. We are absolutely not going to tolerate any excess, any police abuse. We have investigated each and every one of the complaints," said Piñera. Nevertheless the president added that "in many cases, the complaints are irresponsible, made lightly, and later prove to have no claim".
"If there has been abuse or excess, which is being investigated, we will be the first to demand that it be punished and corrected," said Piñera.
Also on Wednesday, Chilean Police General Director Gustavo Gonzalez told reporters before testifying to the Senate that four police officers would be disciplined for forcing student protesters to strip naked.
Gonzalez admitted ten arrested students were forced to take their clothes off, including a minor girl and boy who were detained for occupying their school in Rancagua, south of Santiago.
On Tuesday students clashed with Carabineros in Santiago and other Chilean cities to demand education reform. The rally was one of the largest in recent weeks, with between 50,000 and 130,000 protestors, according to police and protest organizers.
While some danced to the rhythm of drums, thousands of others, masked and wearing hoods, followed the procession and attacked police with sticks and stones. The police responded, as they have in the past, with tear gas and water cannons.
The students were backed by members of the Unified Workers Federation, the country's foremost union, which called on members to join the march.
The Chilean education system is considered expensive, inefficient and inequitable, and not only by the protesting students but also by OECD, the organization for the economic cooperation and development, and to which Chile belongs (the only South American country).
Only a handful of demonstrators have gone to court after more than forty demonstrations since 2011, during which police have conducted mass arrests, widely criticized by a number of human rights organizations.
By the end of 2011, the movement had garnered a 10% budget increase for education, in what was a small boon to student debt and what might have been the beginning of reform in the management of public schools.
Public education in Chile suffered from sharp cuts in funding during the 1973-1990 dictatorship of Augusto Pinochet, leaving a system that favors expensive private schools that are out of the reach of most of the population.