YPF announces three wells confirm discovery of new shale deposits
Friday, August 31st 2012 - 11:56 UTC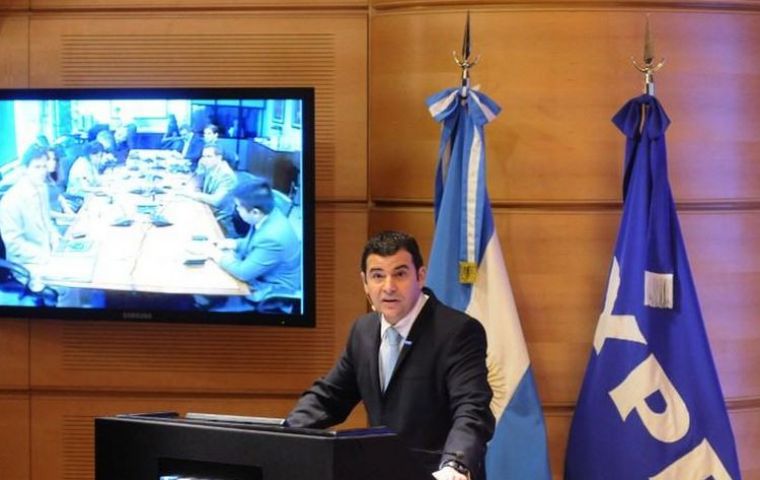 Argentina's recently nationalized oil and gas corporation YPF announced non conventional oil was discovered in five new wells drilled in the Patagonian provinces of Chubut and Neuquen and anticipated that fuel prices in the country will continue to gradually increase to eliminate the gap with competition.
The Thursday announcement was done by the company's CEO Miguel Galuccio during the presentation of the "The 100 days plan for YPF" report and anticipated the company would manage to contain the production decline by the end of the year and in 2013 take off and return to growth.
Galuccio revealed that three of the wells were located outside the Vaca Muerta shale basin, which means a new source rock belonging to the San Jorge Gulf area in Chubut, an oil province with over a hundred years.
"We have for the first time perforated a new 'source rock' in Argentina" CEO Galuccio said.
"The discovery allows us to expand the non conventional exploratory horizon beyond Vaca Muerta and ratifies the power of Argentina in the issue and the pivotal role to be played by YPF in the exploration process".
The other two wells belong to the Vaca Muerta gas shale deposit.
Argentina sits on huge resources of shale natural gas and oil which are considered the largest behind US, China and Canada.
Galuccio also announced that YPF is planning to invest 37.2 billion dollars in the next five years to boost oil and gas production by 32% at the end of 2017, reversing years of declination.
"We've got 80% of the investment program covered with operating cash flow, not earnings, and the remaining 20% coming from debt" said the former executive at global oilfield services company Schlumberger Ltd.
YPF net cash flow was 12.8 billion Pesos (2.8 billion dollars) last year, while net profit came to 5.3 billion pesos.
"A lot has been said about the company's financial stability, and I want to send a message to markets here in Argentina and abroad: the company's financial stability is guaranteed," he said.
"We signed a memorandum of understanding yesterday with a local partner that is willing to invest 500 million dollars in an YPF project ... We're in advanced conversations with Chevron."
Crude production fell 5.9% and natural gas output slipped 3.4% last year as power demand rose 5.1%, according to data from the Argentine Institute of Petroleum and Gas.
YPF proven reserves of crude and natural gas, which do not include the new shale finds, declined 15% and 31%, respectively, between 2007 and 2010, one of the main reasons appealed by President Cristina Fernandez to nationalize 51% of YPF stake from Spain's Repsol.
Galuccio, who will spend much of September presenting YPF growth strategy to major American energy companies, said secrecy regulations bar him from providing estimates of how much crude oil and natural gas might be in the new find.
But admitted the discovery could represent another great opportunity for profits from 50-50 partnerships with YPF in the years ahead. Overall, he said, foreign oil companies partnering with YPF can expect a 15% to 20% return on their investments.
Of the 37.2bn dollars YPF hopes to invest through the end of 2017, all but 4.6 billion will come from its own resources and bond issues. Of this, 73% will be devoted to production, 22% to improving refinery capacity and 4% to new exploration, according to the five-year strategic plan Galuccio laid out to financial journalists.