YPF tempting global oil industry heavyweights with 'Vaca Muerta' shale formation
Friday, August 31st 2012 - 04:08 UTC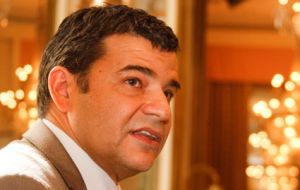 Exxon-Mobil Corp. and Apache Corp. will hold talks with Argentina's YPF next month to discuss further investments in the country's Vaca Muerta shale formation, said a YPF official briefed on the matter.
YPF Chief Executive Officer Miguel Galuccio will meet with Exxon and Apache executives during a conference in Houston on Sept. 18-21, said the official. Exxon, which is already exploring for unconventional oil and gas with YPF in Argentina, doesn't comment on private meetings, said Patrick McGinn, an Exxon spokesman.
The talks would follow an Aug. 24 meeting in Buenos Aires between CEO Galuccio and Chevron Corp. of exploration and production for Africa and Latin America, Ali Moshiri.
Vaca Muerta is often considered to have "the greatest potential as an oil shale outside of North America" Roger Plank, chief corporate officer at Apache, said at an August 15 energy conference.
YPF is scheduled to unveil its contract model for three types of partnerships to develop Vaca Muerta. YPF needs financial and operational partners, Galuccio anticipated.
"September will be the month in which YPF will show its capacity to attract investors," Francisco Perez, the governor of Mendoza province, said in an interview in Buenos Aires. Perez and Neuquen Governor Jorge Sapag said they will accompany Galuccio to Houston. The two provinces own YPF shares.
CEO Galuccio also has plans to travel to China later next month to meet with representatives of CNOOC Ltd. and China Petroleum & Chemical Corp., the YPF official said.
Vaca Muerta is Argentine Patagonia may contain at least 23 billion barrels. Galuccio described the formation as the "tip of the iceberg" for YPF oil projects. The company has already drilled 45 exploratory wells at the shale development.