Former president Vazquez by far the most favoured politician in Uruguay
Monday, September 3rd 2012 - 23:49 UTC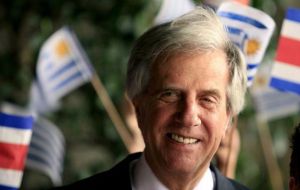 Former president Tabare Vazquez is the most popular politician in Uruguay with 65% support followed by the current head of state Jose Mujica with 50% and Vice-president Danilo Astori, 48%, according to an opinion poll from Equipos Mori and published over the weekend in the Montevideo media.
All of them belong to the ruling coalition that took office in Uruguay in 2005. With this level of support and all other conditions remaining equal, Vazquez could easily repeat the presidency in 2015.
Opposition leaders rank below with the head of the senior National party, Jorge Larrañaga with 46%; Pedro Bordaberry from the junior opposition Colorado party figures with 33%; former president Luis Alberto Lacalle, 26% and Pablo Mieres from the Independent party, 15%.
Among the ruling coalition voters Vazquez leads comfortably with 83% support, second among members of the Colorado party and third with National party voters.
Inside the Colorado party, Bordaberry leads with 79%, followed by Vazquez, 52% and in the National party, Larrañaga has 60% following; Lacalle 55% and Vazquez, 42%.
The Equipos Mori public opinion poll also included questions regarding the rejection levels triggered by the two Broad Front coalition presidents. Current president Mujica at the beginning of his mandate was disapproved by 11%, while Vazquez when he took office in 2005, had a rejection of 9%.
In the second year of their mandates, in April, disapproval jumped to 29% and 30% respectively, while in June (third year of their five year periods) it was 39% for Mujica and 22% for Vazquez.
Later Vazquez had worse rankings until October of the third year with disapproval climbing to 31%, which was a peak, because since then it started to slide gently to 10% and an approval rating of 75%.
However Equipos-Mori also points out that the survey was done a few days after the cold blood killing of a bar tender, and which was filmed in security cameras and then aired by the open television in the main news, shocking public opinion.
"This could have had a negative assessment for President Mujica and his Minister of Interior", admits Equipos-Mori.
As to the level of support of former president Vazquez in June of the third year of his mandate it stood at 42%, while for Mujica it reached 39%.
This has been the worst approval level for Mujica, while Vazquez reached his lowest peak in October of his third year (2007) with 39%.