Mercosur faces "great problems and internal divisions" making talks with EU "difficult"
Tuesday, September 4th 2012 - 06:26 UTC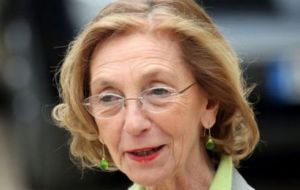 French Foreign Trade minister Nicole Bricq said that there are "great problems" in the current negotiations between the EU and Mercosur to reach an association agreement which also includes a free trade chapter.
"There are great problems because Mercosur is very much divided among its member countries" said Minister Bricq during a press conference in Brussels, where she met with several EC commissars linked to trade and Vital Moreira, chairman of the International Trade Committee from the European Parliament.
Asked specifically about negotiations with Mercosur and the last round of talks in March when not much was advanced, Bricq said that Foreign Trade Commissar Karel De Gutch and Internal Trade Commissar Michel Barnier updated the group on the issue.
"The agreement has become problematic…there are many problems including inside the Mercosur organization", said the French minister.

Bricq recalled that a new member has been incorporated to Mercosur, Venezuela, besides Argentina, Brazil, Uruguay and Paraguay which was suspended by its associates at the end of June, until next year, following the removal by Congress of Fernando Lugo, as president of the country.
De Gucht said recently that EC will continue to negotiate with Mercosur as a block and expects Venezuela, a full member since 31 July, will take part in the talks with the EC.
Bricq also pointed out to other obstacles for negotiations; the "measures clearly protectionist which are implemented by certain Mercosur members", and referred specifically at the problems created with bio-diesel.
The EC last week decided to open an investigation following a presentation last July by the Bio-diesel European Council which considers imports of Argentine bio-diesel as dumping (because sale price to EU is below domestic price) and are therefore causing damage to the local European bio-diesel industry.
France is also one of the countries which has most warned about the potential damages to the European agriculture production (particularly beef) which an agreement with Mercosur could entail, since Brazil, Uruguay and Argentina are world leaders in the production of beef.
EC is waiting for the next round of negotiations to reach the association agreement with Mercosur and which was scheduled for last July but had to be postponed because of the political situation in Paraguay. Apparently some time late this month delegates from the EU and Mercosur will meet to continue advancing.