Rousseff comes out in defence of a very much questioned Lula da Silva legacy
Tuesday, September 4th 2012 - 06:15 UTC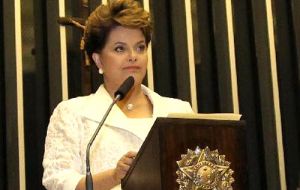 Brazilian president Dilma Rousseff has come out in defence of her predecessor and political mentor Lula de Silva who was the target of strong criticisms from another former president Fernando Enrique Cardoso.
In a rare intervention President Rousseff made public an official release where she counters criticisms from Cardoso who on a Sunday column, under the heading of "Heavy Legacy" deplores the corruption cases that have emerged and not so clear events in the financial field which happened during the eight years of Lula da Silva at the Planalto Palace.
President Rousseff replied saying she actually received a "Blessed Legacy" and recalled that when Cardoso left the presidency contrary to Lula da Silva, Brazil was under the financial intervention from the IMF and under the "threat of a major blackout". Both claims refer to major situations undergone by Brazil between 1995 and 2003.
Because of the Russian and East Asia financial crisis of 1999, Brazil received full support from the IMF to contain the external shock and at the same very severe droughts left the hydroelectric generating companies on the border of collapse.
Rousseff added that Lula da Silva "has been a democrat all his life who did not fall to the temptation of amending the constitution in a way that benefited him" in clear reference to the constitutional amendment pushed by President Cardoso so that heads of state could be re-elected, thus completing eight years in office.
"Not acknowledging the advances achieved by Brazil in the last ten years is a low attempt to re-write history. The past should be a lesson, a critical vision, not one of resentment", added President Rousseff.
Cardoso strongly attacked the "moral crisis" introduced by the administrations of Lula da Silva and the successive corruption cases, which forced seven ministers from cabinet to step down. He further mentioned the 2005 "monthly payments in Congress" scandal, and which is currently being dealt in court by the Supreme Tribunal.
The former centre right president also questioned some of the infrastructure development projects launched by Lula da Silva's administration which had more of a "media impact", and resulted particularly costly and of scarce benefit for Brazil.
The heavy exchange between the president and former leaders is in the context of the first round of municipal elections scheduled for next October, when 5.566 mayors and thousands of council members are to be elected.