Despite Chavez denial, Yanomami indigenous tribe claim there was a massacre
Thursday, September 6th 2012 - 05:46 UTC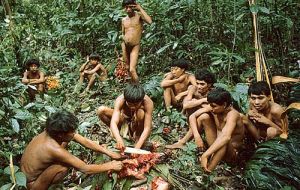 Venezuelan President Hugo Chavez on Wednesday became the latest senior official to insist there is no evidence of an alleged massacre of some 80 Yanomami indigenous people.
Venezuela has said it sent an investigative team Friday to the south of the country along the border with Brazil, where the killings are alleged to have been perpetrated back in July by Brazilians mining illegally for gold.
"Neither evidence nor accounts from the indigenous people themselves turned up anywhere," Chavez told a news conference.
The massacre was reported by a Yanomami organization known as HOY.
Several ministers have insisted this week there was no evidence of any violence against Yanomami.
An association of indigenous peoples, COIAM, urged the government on Monday to keep investigating, arguing that the Yanomami jungle settlement in question is so remote that the government investigative team could not have reached it and reported back so quickly.
Gangs of illegal miners come to the remote corner of the Amazon jungle straddling Brazil and Venezuela in search of gold and diamonds.
In the past, the Yanomami have been victims of physical violence, threats and abductions at the hands of the miners, COIAM said last week.