Argentina achieves 12-month trade surplus target in August with 10.04bn dollars
Friday, September 7th 2012 - 03:15 UTC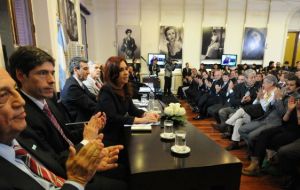 Argentina's trade surplus rose to 1.64 billion dollars in August, more than double the surplus in the same month a year ago achieving the twelve months target four months ahead, President Cristina Fernandez announced on Thursday.
"The surplus has accumulated 10.040 billion dollars during the first eight months of the year, which has exceeded the volume expected for the whole year" said the Argentine president adding that imports in the period had dropped 17% and exports were up 6%.
Argentina's trade surplus is widening as imports fall due to government restrictions that have riled many trading partners and prompted complaints at the World Trade Organization.
Argentina's economy is slowing sharply after booming during most of the last nine years. Cristina Fernandez needs a big trade surplus to help increase the central bank reserves used to pay government debt since the country's access to the global voluntary credit market is limited because of pending debts from the 2001/02 sovereign default and later debt restructuring.
President Cristina Fernandez argues that her administration's trade policies are geared to ensure local jobs and prop domestic industry as the global economy struggles.
The surplus trade target which was achieved four months ahead of time should come as an encouraging news for local industry which although strongly supporting the government's trade policy, it is also a victim of the imports' restrictions running short on some inputs and has asked for more "flexibility".
This year's budget estimated a surplus of 8.58 billion versus 9.04 billion in 2011.
Argentina's trade surplus was 800 million dollars in August 2011. July's surplus widened 54% as imports dropped for a sixth straight month thanks to government curbs that have infuriated many trading partners, including Mercosur members and neighbouring countries.