Argentina limits dollar trading for arriving tourists in ports and airports
Saturday, September 8th 2012 - 05:20 UTC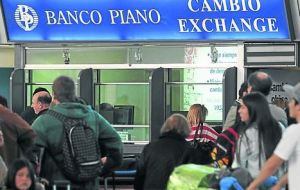 The Argentine government is further tightening the US dollar clamp. On Thursday the Central bank announced that state-run banks and agencies will be the only ones officially allowed to operate foreign currency exchange offices in airports and ports.
Each foreign traveller will be allowed to change up to 500 US dollars on arrival in Argentina, the Central Bank said.
The decision also cancels all permits to private banks and exchange houses that currently have branches at airports and ports dealing in foreign currency, the state-run news agency Telam said.
The Central Bank said in a press release that it had taken the decision due to what it described as "abusive practices that affect travellers arriving in Argentina." It also said that the move was part of the national government's fight against money laundering and terrorism.
The Central Bank said that private banks and exchange houses currently based at airports and ports were dealing in dollars at unofficial rates, which often short-changed travellers.
The recent reform of the Argentine Central Bank charter approved by Congress allows it to "protect clients of financial services and take the necessary measures to that effect," Telam said. The decision is the most recent in a series of measures taken by the administration of President Cristina Fernandez to control the foreign currency exchange market.
The AFIP tax agency slapped a 15% levy on August 30 on credit card purchases abroad in another bid to keep dollars in the country. The 15% surcharge was also slapped on debit card transactions abroad and Internet purchases made in foreign currencies.
President Cristina Fernández imposed currency exchange controls last year which have since been tightened considerably. Buying dollars and other foreign currency is virtually banned. Argentines travelling abroad must request AFIP approval to purchase dollars at the official rate. Travellers are usually sold 70-100 dollars for every day they will spend abroad.
The Central Bank said on Thursday that foreign currency will be changed at ports and airports at the official exchange rate in the cities where the stations are located. "For security reasons," foreign travellers will be allowed to carry out foreign currency exchange transactions worth up to 500 dollars per client, the Central Bank said.
On Friday the US dollar traded at 4.635/4.675 Argentine Pesos to the US dollar, climbing half a cent compared with the previous closing price yesterday. On the black market the US currency traded at 6.33 Pesos, thus losing one cent compared with yesterday's rate