Brazilians take to the streets on Independence Day to protest against corruption
Saturday, September 8th 2012 - 07:06 UTC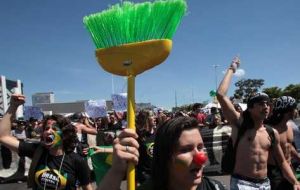 Thousands took to the streets of the Brazilian capital to march against corruption on the country's Independence Day, along the same avenue where the main military parade took place on Friday.
Marching before President Dilma Rousseff and all her cabinet and military brass, an estimated 7.000 people, (4.000 according to the police) chanted and danced wearing black dresses and ingenious signs complaining about corruption, and finally reached the Supreme Court and the Executive or Planalto Palace.
The march was along the main avenue of Brasilia, with the city closed down because of the national festivity. This is the second year running such demonstrations take place and which according to the Brazilian press, were repeated in all the main cities of the country.
A group in the crowd carried a coffin with the reading "mensalao" (big monthly pay) in direct reference to the ongoing trial started last month by the Supreme Court and which has 38 top ranking former lawmakers, ministers, lobbyists and members from the ruling Workers Party in the box, for involvement in an alleged major scheme to pay members of Congress a monthly due to support the government of then president Lula da Silva legislative initiatives.
The "mensalao" when it blew up almost cost Lula da Silva his presidency, given the extent of the scandal and they fact his closest aides were involved in the scheme.
"Brazil is the country where being foxy pays more than a good education. I'm appalled with indignity" read one of the signs carried by a young protestor who was marching in silence.
"We can't remain unmoved with out demanding that public monies reach the hospitals and the schools that are in ruins. But what makes me most sad is that the majority of the people remain at home and don't come out and protest. Only if a football match the turnout reaches 50.000" complained one of the demonstrators.
Marches to protest corruption widely extended in the whole political system began a couple of years ago but they never manage to attract thousands as the organizers pretend.