Falklands' 1986 referendum showed 94.5% favoured British sovereignty
Saturday, September 8th 2012 - 05:00 UTC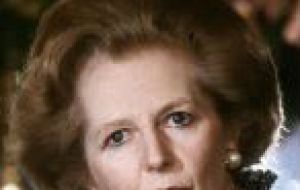 In the light of the referendum on the political future of the Falkland Islands scheduled for March 2013, Islander Eric Goss this week provided Penguin News with historical information relating to a Sovereignty Survey conducted in 1986 that revealed a 94.5% cent vote by Islanders in favour of British sovereignty.
The results of that survey were released at a Press Reception called by the Falkland Islands Association at the Kingsley Hotel in London on April 1, 1986.
The survey itself was carried out by Marplan Limited and commissioned by the Falkland Islands Committee with the results verified by the Electoral Reform Society.
A questionnaire was sent to everyone on the electoral register in the Islands asking one question 'What kind of sovereignty do you want for the Falkland Islands?
Of the 1,033 questionnaires sent out, 920 copies were received back, a response of 89%, one of the highest in Marplan's experience.
The results were:
British sovereignty – 94.5 %
Independence – 1.5%
Other solution not listed – 1.2%
Two solutions selected 1.1 %
Lease-back – 1.0%
Argentine Sovereignty – 0.3%
United Nations Trusteeship – 0.3%
According to a statement on the survey, the Governor at the time, Mr Gordon Jewkes in writing to Eric Ogden, Chair of the Falkland Islands Association on April 4 said: "Early reactions locally suggest that the spread of replies over the poll's different categories caused little surprise and apparently no serious disposition to attempt to uncover those who expressed minority opinions. However, I sense that the percentage of replies was somewhat higher than expected by Falkland Islanders. This certainly pleased them as indeed it did me."
The results of the survey were sent to the British Prime Minister of the time Margaret Thatcher who commented: "As you know, the Government has never been in any doubt over the wish of the overwhelming majority of the Falkland Islanders to remain under British sovereignty: that wish is a key factor in our policy."
She also wrote: "we are committed to defending the right of the Falkland Islanders to live under British sovereignty. This is not negotiable."
In a recent Executive Council paper on the referendum scheduled for March 2013, it was noted that the Electoral Commission would assist with planning.
It also noted: "It is recommended that the election is independently observed by a panel of representatives from a number of different countries including from South America."
It was also recommended that, "a suitable person be invited to select and Chair a diverse and independent panel of observers and set out its terms of reference". (PN).-