Brazil confident it can organize an Olympics as successful as London's
Wednesday, September 12th 2012 - 04:47 UTC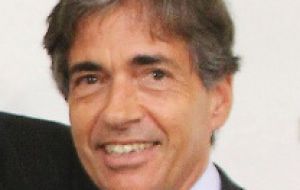 Hosting the Olympics two years after staging the World Cup was always going to be a big task but the success of London 2012 has raised the bar even further, according to Brazil's deputy sports minister Luis Fernandes. With the Olympic flame now out in London, all eyes turn to the Brazilian powerhouse and the clock is already ticking for the 2016 Games.
Fernandes, who attended the Paralympic closing ceremony on Sunday, predicted that national pride would ensure the Games in Rio de Janeiro would be every bit as successful as London.
"I think it has made things more challenging because London has elevated the bar," he told Reuters at the Brazilian ambassador's residence in central London on Monday.
"The level of performance that is expected of us is higher now than ever. But on the other hand the success of London has made the Games more attractive to private investors and increased the goodwill about the Olympics."
Fernandes said comparisons between the two Olympics would be unfair but believed that staging the world's two biggest sporting events in the space of two years would drive Brazil forward.
"There is a big difference between hosting the Olympics in a city like London and one like Rio," said Fernandes, a soccer-loving Rio native. "We are a developing nation and Britain is one of the richest countries in the world and has infrastructure that was already set up".
"The Olympics and the World Cup are a chance for intensifying investment in basic infrastructure which is crucial to national development. There is a very ambitious plan that has been set up which will make Rio a completely different city after the Games than it was before", concluded Fernandes.