Euro-Rescue-Day: German constitutional court rules on support for the EU currency
Wednesday, September 12th 2012 - 01:41 UTC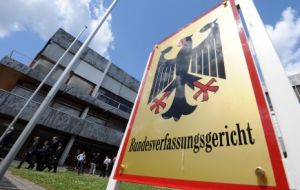 Germany's Constitutional Court rejected on Tuesday an attempt to further delay a ruling on the European Stability Mechanism (ESM) and fiscal compact, which had previously been pushed back by months while the judges reviewed whether the German parliament is permitted under the constitution to ratify the treaties.
On Wednesday the court will go ahead with a long-awaited ruling on the legality of the Euro zone's new permanent bailout fund and budget rules, despite a last-minute legal challenge by a member of parliament.
Further delay to the ruling on the ESM would have upset bond and currency markets which are already on tenterhooks awaiting the green light from the 17-member Euro zone's biggest economy.
If the court upholds injunctions in its ruling at 0800 GMT on Wednesday, it will plunge the currency zone deeper into turmoil by casting doubt on Europe's ability to launch further rescue bids of heavily indebted southern states.
But legal experts believe the eight judges in the court's Second Senate will approve the bailout fund and budget package, while possibly imposing tough conditions that would limit Berlin's flexibility on future rescues.
Bielefeld University law professor Franz Mayer said the decision on Tuesday not to admit the last-ditch challenge lodged by conservative, Euro-sceptic lawmaker Peter Gauweiler was a "positive signal" for those hoping the court will allow the ratification of the new EU deal tomorrow.
"It indicates that the judges know very well what they can do and what they cannot do and proves that they are well aware of the consequences of their decisions in the Euro context," he said, adding that Gauweiler had a record of "filibustering".
Nonetheless, EU financial legislation is increasingly butting against limits the German constitution sets on national institutions relinquishing powers, so more cases seem likely.
Few German law professors expect the court to go as far as to signal that Germany must change its constitution and hold a referendum before it can take part in any further integration of the European Union. Such a vote could complicate Merkel's expected bid for a third term a year from now.
However, the constitutional complaint by Gauweiler, a member of the Bavarian regional party in Merkel's centre-right coalition, could still upset European policymakers' latest attempts to solve the three-year-old sovereign debt crisis.
His case, lodged at the weekend after the European Central Bank announced plans for unlimited purchases of bonds of crisis-hit Euro states to reduce their borrowing costs was not admissible for procedural reasons, legal experts said - because an ongoing case cannot be broadened to include new complaints.