Four different "ecotypes" of killer whales spotted in Falklands waters
Wednesday, September 12th 2012 - 02:09 UTC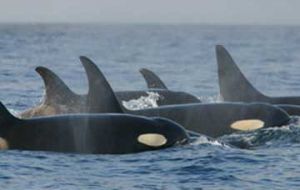 To many, the killer whale, also known as orca, is considered the panda of the sea (a not-so-cuddly black and white ocean beast). Whale scientists have been particularly busy over the last 20 years studying the killer whale and we now know a whole lot about this species or, as it turns out, possibly several species.
Ten different "ecotypes" of killer whales have now been proposed: populations that look different, have different prey preferences, feeding habits and acoustic behaviours. Also they may represent several different species.
Cataloguing photos from around the world, biologists have identified five different ecotypes in each of the Northern and Southern Hemispheres, with possibly as many as four having a distribution that could potentially include waters around the Falkland Islands.
At Sea Lion Island, "type A" killer whales are sighted. These are clearly demarcated black and white, with a white patch above and behind the eye. However, there are likely to be other ecotypes in Falkland waters. The "type D" killer whale has just a tiny white eye patch; it is known from a few sightings in Sub-Antarctic waters, including at South Georgia and it probably occurs in Falklands waters also.
A pod of killer whales photographed to the north of the Falklands in 1979 has now been identified as "type B" killer whales; more grey than black and with a much larger white eye patch than types A or D. And from satellite tracking studies, there is reason to suspect that this form regularly moves through the waters offshore the Falklands.
Eight type B killer whales foraging in Antarctic Peninsula waters were equipped with satellite transmitters to record their movements during the summers of 2010-2012 by US scientists John Durban and Bob Pitman.
To the scientists great surprise, these killer whales made speedy northwards trips, getting up to speeds of 12km/hr or 6.5 knots, passing just east of the Falkland Islands, to the much warmer waters off Uruguay and Brazil.
Do type B killer whales often pass through Falklands' waters and do type D killer whales actually occur here? And does type A killer whales found in the Falklands migrate to Antarctic waters also? These are good questions and we can gather our own evidence fairly easily by collating all the photos people have of killer whales in and around the Falklands.
Bob and John are keen to examine Falklands' killer whale photos, especially if they have date and location information associated with them. These will be used not only to identify what types are present here, but also to see if any photo-identifiable animals from the Antarctic Peninsula have also been caught on camera in the Falklands.
Helen Otley is collating photos for Bob and John – please obtain further information from her and send your images to heleno@southcom.com.au Just how do whale scientists get satellite tags onto killer whales you might well ask? Well, the US scientists John Durban and Bob Pitman worked with the Falkland's own Jerome and Dion Poncet on the "Golden Fleece" to get close enough to the killer whales to attach a small, temporary, satellite transmitter fired from a crossbow. This work was done in conjunction with a BBC Natural History film team and you can watch these same whales hunting their seal prey in the recent series 'Frozen Planet'. If these scenes impress you, the killer whales at Sea Lion Island are featured in the BBC Natural History Unit's series 'Life'.
And why do Antarctic killer whales travel 5,000 km round trip to southern Brazil and back, only to return sometimes less than 42 days after departing?
Bob and John postulate that whales need periodically to moult their skin, and it would be pretty cold and energetically costly to spend the two weeks waiting for the old skin to fall off and for the new skin to form in freezing waters, so the whales take off to warmer waters for a few weeks.
That seems a plausible explanation.
By Helen Otley, Penguin News