Nicola Granger appointed Financial Secretary for the Falklands government
Wednesday, September 12th 2012 - 14:32 UTC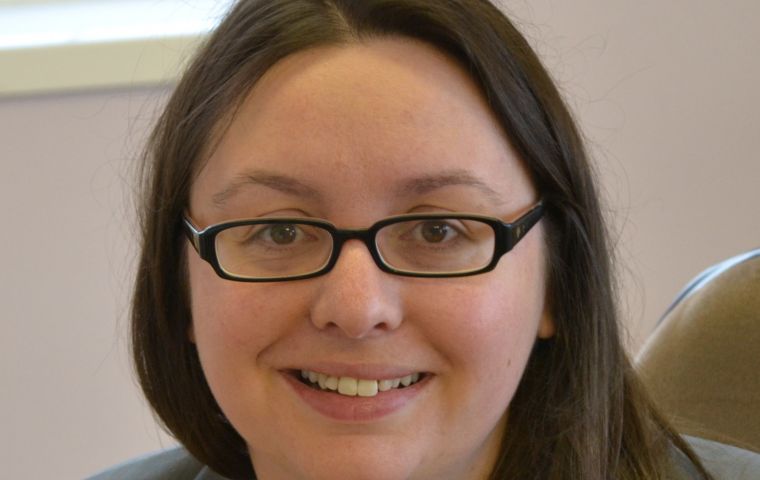 The Falkland Islands Government announced this week the appointment of Nicola Granger to the post of Financial Secretary for the Falkland Islands Government. Ms Granger steps into the role permanently from the Head of Finance Position when Keith Padgett became Chief Executive.
In making the announcement, Simon Fletcher, Acting Chief Executive said he was delighted to announce the appointment of Nicola Granger as Financial Secretary.
"Nicola has a wealth of experience with the Falkland Islands Government, and has been acting Financial Secretary since February. I have no doubt that Nicola is the right person to lead the Treasury through the next few years, which promise to be very exciting for the Falklands Islands".
On her appointment, Nicola Granger said: "I'm excited by this opportunity to build on my work of the last five years and to lead the Treasury through what is going to be a challenging but critical time for FIG finances. I'm very fortunate to have a strong and dedicated team in the Treasury and I look forward to working further with them over the coming years".
Originally from Exeter, Nic earned her honours degree in Business Information Systems from the University of the West of England before joining Mazars LLP. There she gained extensive accounting and audit experience of the public, private and charities sectors before she qualified with the Institute of Chartered Accountants for England and Wales and left to work in an NHS Mental Health Trust in Chippenham.
Arriving in the Islands in October 2007 Nic has worked for the Treasury in a number of roles, including budget setting and production of the annual financial statements. Having led the budget process since 2008 Nic recently gave her first budget speech to the Assembly.
A keen watercolour artist and photographer, Nic enjoys playing the piano and singing in choirs. An avid reader Nic also spends her time researching her family tree and has traced some branches back as far as 1650.
Having travelled around East and West Falkland and visited the majority of the Islands her favourite place is Carcass Island.