Obama says his administration has been 'very aggressive' in expanding relations with Latin America
Saturday, September 15th 2012 - 05:42 UTC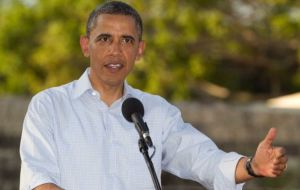 US President Barack Obama denied on Thursday contrary to what many of his critics contend that he has neglected Latin America and said that his administration has been "very aggressive" in trying to broaden relations with the region.
"We have not only not neglected it, we've actually been very aggressive in trying to expand those relationships. Trade is significantly up between the US and Latin America since I took on the presidency" Obama said in an interview with the Spanish news agency EFE, in Golden. Colorado, following a campaign rally.
"Keep in mind that I've taken a number of trips, to participate in the Summit of the Americas in Colombia, most recently to Brazil, Chile, and El Salvador, and I was just in Mexico for the G20 summit," the president said in responding to a question about whether he felt he had neglected the region.
"And throughout these trips what I've emphasized is the importance of strengthening bonds and ties between the US and all the countries throughout Latin America and the Caribbean," he added.
"In very concrete terms, we have partnered on security issues, to dealing with (the) trans-national drug trade, to energy issues focused on how we can develop greater energy efficiency and more clean energy," the president said.
Obama also mentioned, as signs of his commitment to Latin America that since taking office in January 2009 his administration had worked on "expanding trade by signing free trade deals with Colombia and Panama and really emphasizing exchanges between young people which create such a strong bond between the U.S. and the region."
"I expect that I will travel there again. This is going to be a huge growth region with enormous opportunities but also enormous challenges," he said.
The president added, in conclusion, that what he called Washington's "unprecedented" cooperation with Mexico to fight drug trafficking will continue as the new administration headed by Enrique Peña Nieto takes over there in December.
"Our cooperation with Mexico on dealing with the trans-national drug trade is unprecedented and we'll continue to build on that with the new administration," Obama said.