Paraguay could demand "moral and economic" compensation from Mercosur members
Monday, September 17th 2012 - 02:37 UTC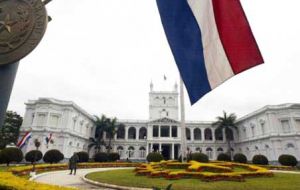 Paraguay is considering demanding "moral and economic" compensation from Argentina, Brazil and Uruguay for having been suspended from Mercosur as full member and at the same reiterated its rejection to Venezuela's admission, according to the country Foreign Ministry.
"Paraguay has the right to demand moral reparation for the offences infringed upon the dignity of the Republic, as a State and as a member of the international community, as well as claim compensation for the economic losses and damages suffered", said the ministry in a release.
The Paraguayan position had been advanced to the three governments involved in a formal protest, added the release in reference to the July 31 decision which formalized the incorporation of Venezuela as full member of Mercosur and without the support from Paraguay, which had been suspended for the removal from the presidential office of Fernando Lugo following political impeachment.
Paraguay adds that the Mercosur resolutions adopted in absence of Paraguay can be described as "illegitimate".
"Without dropping our right to claim through the appropriate instances and mechanisms those rights which have been denied to us, Paraguay calls on the governments of Argentina, Brazil and Uruguay to a dialogue on the events above described", concludes the release.
Paraguayan president Federico Franco in recent interviews with the Brazilian media claimed that Mercosur has become "an ideological club of friends" and accused Venezuela of financing "terrorist groups" in Paraguay and Colombia.
"Mercosur ceased to be a trade institution to become an ideological club of friends, and the decision to incorporate Venezuela was entirely a political decision and not juridical thus it is totally illegal" argued Franco.
Franco also claimed that cells of a self denominated "Paraguayan People's Army" EPP is closely linked to the Colombian FARC, which he said are supported by the Venezuela of President Hugo Chavez.
The Paraguayan president also insists that during the impeachment process against his predecessor Fernando Lugo, Venezuelan Foreign Minister Nicolás Maduro tried to convince the Paraguayan military command to organize a coup in support of the ousted Lugo.