Spain dumps Paraguay from the Ibero-American summit not to offend Argentina
Monday, September 17th 2012 - 05:48 UTC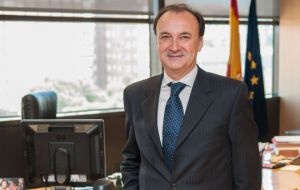 A top Spanish official made a low profile and unexpected visit to Paraguay last week with the purpose of trying to convince the administration of president Federico Franco to remain absent from the coming Ibero-American summit scheduled for November since Madrid fears his presence could turn the event into a failure.
According to the Madrid newspaper El Pais, the Spanish Secretary of State for International Cooperation and Ibero-America, Jesus Garcia arrived last Wednesday to Asunción to try and convince Paraguay not to attend the Cadiz summit, November 16/17, since his presence would be rejected by several presidents.
This is because since Paraguay was suspended from Mercosur until April next year, a decision also supported by the Union of South American Nations, Unasur, Madrid believes that Paraguayan president Federico Franco's would turn back Cristina Fernandez from Argentina, and the Spanish government is very much interested in talking with the Argentine leader.
Further more if Argentina abstains from the Cadiz summit (because Cristina Fernandez does not want to be seen or talk with Federico Franco) other countries would follow such is the case of Venezuela (if Hugo Chavez is re-re-re-elected next 7 October), Ecuador and Uruguay, says El Pais quoting diplomatic sources in Madrid.
This would torpedo Spain's international standing as the natural bridge of the European Union with Latin America, and thus the emphasis of Madrid in improving relations with Argentina, even if that means sacrificing Paraguay.
"The Spanish government is also interested in normalizing diplomatic relations with Argentina which have been severely affected since last April (when Cristina Fernandez seized a majority stake in the oil and gas corporation YPF from Spain's Repsol)", wrote El Pais. "Relations are quite battered and need rebuilding", said the Madrid daily.
Last week the Argentine government forced the Spanish company Global Exchange to close the eleven offices it was operating since 2001 in the country's main airports including Ezeiza, metropolitan Buenos Aires, Cordoba, Mendoza and Bariloche.
Global Exchange had money exchange offices in the Argentine air terminals and following a decision limiting those operations only to government banks or financial institutions, the Spanish company was informed, with no previous notice of the 'transitory suspension' of its licence.
The decision is part of the "dollar clamp" policy of the Cristina Fernandez administration which has also slapped 15% levy on credit and debit cards from Argentine holders shopping overseas.
In a similar red carpet message but addressed to Brazil the Spanish government said it "respects" and considers "legitimate" Brazil's decision to up tariffs on a hundred goods to enhance its industry.
"Brazil is acting within the framework authorized by the competent organizations on international trade, thus it is a legitimate decision that the Spanish government respects", said Foreign minister Jose Manuel Garcia-Margallo during the recent EU ministerial meeting held in Pafos, Cyprus.
Spain and the EU will be affected by the latest Brazilian measure which refers to a wide range of goods.