Venezuela and Argentina sign 24 agreements in the oil-food industries
Monday, September 17th 2012 - 05:37 UTC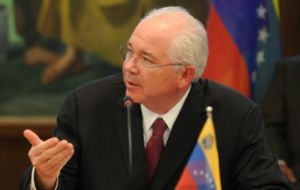 Venezuela and Argentina signed three institutional agreements and 24 among corporations during the two-day First Meeting for the Venezuela-Argentina Petro-industrial development with the purpose of intensifying trade, investment and cooperation between the two countries.
"We have signed 24 productive work agreements among the corporations attending the meeting", said Venezuela' Foreign minister Nicolas Maduro, adding that the two-day event was part of the "standing plan to develop bilateral relations".
Maduro said the agreements are in the framework of Mercosur, to which Venezuela was admitted as a full member last July 31. Both countries are further 'accelerating' the union and diversification of their economies and cooperation in fields such as energy, technology, as well as "the foundations for many years of joint building".
The Argentine delegation of eighty mid sized companies together with the umbrella of YPF was headed by Minister of Industry Debora Giorgi and Federal Planning minister Julio De Vido.
Rafael Ramirez Carreño minister of energy and president of Venezuela oil giant PDVSA said that the agreements are historic, since "they point south and this is going to further introduce Venezuela in Mercosur".
Ramírez mentioned three agreements at ministerial level, one of them framework for the ongoing cooperation, and the other two: a trust-ship between the two countries and a third for training staff.
The trust ship will be funded with the sale of fuel and diesel to Argentina which once subtracted costs and transport the remaining can be used to finance the acquisition of machinery and equipment.
"We are making a great bet on agriculture with the trust ship; our plan is to complement our energy capacity with the food production capacity of Argentina, thus helping Venezuela work towards its food sovereignty", said Ramirez
In the private sector, there are "working alliances" in such areas as tubes and valves for the oil industry plus other inputs in chemicals.
Ramirez said that Venezuela's objective is not simple energy buy and sell operations, but rather the creation of companies in the country to develop infrastructure with the private sector so as to create industries, adapt technology and capitalize factories so that "we can a steady supply of the products we need to develop the shale deposits in the Orinoco basin".