Preparing to re-enact Shackleton's epic on a replica of 'James Caird' next January
Tuesday, September 18th 2012 - 15:06 UTC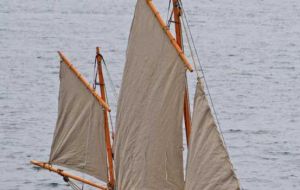 A pair of Royal Navy and Royal Marines adventurers has completed a summer of sea trials as they prepare to take an authentic replica of Sir Ernest Shackleton's famous lifeboat back to the icy wastes of the South Pole.
With only four months to go before the 'Shackleton Epic' adventure gets underway, a significant milestone has been reached and the expedition's naval element is eager to get going on the trip of a lifetime.
The 'Shackleton Epic' has been in development since 2008 when The Honourable Alexandra Shackleton, granddaughter of Sir Ernest, had the idea of an expedition to honour one of the greatest leadership and survival stories of all time.
Now, a crew of six British and Australian adventurers will attempt to become the first to authentically re-enact Sir Ernest Shackleton's treacherous boat voyage from Elephant Island to South Georgia, followed by the difficult crossing of its mountainous interior.
To this day, no-one has successfully recreated Shackleton's complete 'double' journey across sea and land using traditional gear. British/Australian adventurer Tim Jarvis, a veteran of multiple polar expeditions, believes it will be the most challenging expedition of his life.
The only concessions to the use of period equipment will be the storage of modern emergency equipment and radios on board the 'Alexandra Shackleton', and the presence of a support vessel, TS Pelican, in the Southern Ocean.
Both modern emergency equipment and Pelican's assistance will only be used in the event that the 'Alexandra Shackleton' gets into serious trouble.
Petty Officer Seb Coulthard from the Lynx Wildcat Maritime Force and Warrant Officer Class 2 Barry Gray from 30 Commando Information Exploitation Group Royal Marines are at the end of a long summer trialling the 'Alexandra Shackleton', the replica of the 'James Caird' - Shackleton's lifeboat which stood him in good order on his epic rescue 100 years ago.
With the diligence of a master shipbuilder Petty Officer Coulthard has overseen his creation, and tested and adjusted it for the journey south. The boat has now been packed up and shipped off to Antarctica to await the expedition team's arrival early next year.
"We've made minor alterations and replaced some of the ballast," said Petty Officer Coulthard. "It's remarkable that Shackleton got his stability calculations correct even though he was working on the edge of what was technically possible.
"We replaced some of the rigging, manila ropes and Flax canvas sails - they had worn through; it's all made of natural fibres and they wear very quickly.
"We've come from being a reasonably small expedition, 'six men in a boat with a website', into a global adventure with sponsors and backers - it's grown out of all recognition."
Come January 2013, the team will be in Punta Arenas in Chile ahead of their attempt beginning around 17 January to emulate Shackleton's voyage across 800 nautical miles (1,480km) of the most challenging and treacherous seas on the planet - the Southern Ocean, sailing from Elephant Island to South Georgia aboard their replica boat.
On arrival at South Georgia three of the team will traverse its mountainous interior to reach the former whaling station at Stromness. The expedition will culminate in a pilgrimage to Shackleton's grave at Grytviken.
The skipper of the boat, professional offshore sailor Nick Bubb, had his doubts when he first set eyes on the 'Alexandra Shackleton': "It looked like a survival capsule, which is exactly what it is.
"As an adventure there can't be many that's been analysed to such an extent; this analysis has provided a lot of answers to questions as they come up.
"It's not just us doing what we think is the best thing; we're all the time looking back to see how Shackleton did it."
The training and team building continues right up until they depart next year. Royal Marines Mountain Leader Barry Gray has arranged courses in Scotland, Wales and Switzerland so the team can get to know each other and work on their winter mountain skills ready for the crossing of South Georgia.
Brigadier Bill Dunham, Deputy Commandant General Royal Marines, was at the global launch of the expedition and chatted with the naval members of the team:
"I envy them the challenge," he said. "I don't necessarily envy them the reality of what they're about to attempt. This adventure will call upon courage, determination, unselfishness and cheerfulness in the face of adversity - all what we call in the Royal Marines 'The Commando Spirit'; values that other Service people can appreciate and translate. (Defence News).-